JonCha, short for Jean-Charles, is a French multidisciplinary artist, operating in the world of theater and storytelling. He works as a composer, director, actor and writer. Out of a passion, JonCha started making gently distressed Western hats, inspired by characters from his favorite novels. 
His Agave Road Hats are handmade, each one unique and inspired by characters from the many books he reads, JonCha's other great passion. Every hat has its own soul and story. The unisex hats are in high demand in France, Spain, Greece, Mexico, and the United States.
The red thread through his life is storytelling. JonCha wants to create what has the power to tell stories through centuries. He lives and works from his native region in southern France, Calvisson.
Tell us about your background.
I grew up in the South of France, two hours from where we live now, in Calvisson. I designed my life to work in art. First I worked a lot in the theatre. After my education to be an actor in Montpellier and Paris, I became a director and writer. After other directors saw my plays for which I had composed the music, I became a composer for theatrical plays, choreographies and films.
When I moved with my wife Anna Malmberg to Stockholm, Sweden, I decided to focus on another passion of mine, Psychology. I don't want to have regrets in my life so I pursue as many dreams as I have, even if they lead nowhere but to the simple satisfaction of realizing them.
At the moment, besides making hats, I work as a composer for theatre, cinema and commercials. I am a writer and publish novels and plays. This year, the famous acting school Les Cours Florent asked me to be a "Playwriting and Music Composition"-teacher for their students, helping actors to discover the world and the techniques of writing and a music composition course as well. So I do music and still work as a director and actor.
How did you become a hatmaker?
All my professional activities were related to feelings. I missed working with my hands.
In 2016, I went to the US for the first time, making a road trip in the deserts of the south. There I discovered the hats, I was always looking for. These hats were worn, nothing fancy, old hats. I bought them and they did not fit me, so I taught myself to reshape them. In order to learn the technics, I searched the internet about hats and hatmaking. That is how, I started to learn how to work with the materials.
In 2022, we moved from Stockholm, Sweden to the south of France. With my new environment, I wished for new hats. Instead of buying new ones, I decided to make my own. I bought my first felt and my first tools, and I carved my own expandable foam board hat blocks.
This way, I made my first hat, exactly as I wanted it to look and feel. People showed interest in my hats, and out of the blue I became a hatmaker. That was never planned. This interest became a passion.
JonCha | hatmaker Agave Road Hats. Finishing touch on his handmade hat (Photo: Hélène Mulder)
Is there a connection between all these disciplines?
I never write without listening to music. When I compose music, I am writing stories. So for me, it is the same thing. I find inspiration in both books and music. The music gives me a certain pulse. Yes, it is all connected.
Can you explain us your company's name Agave Road Hats?
Since my hats are Western hats and since I love deserts, I wanted a name that relates to that. When we moved here, we saw there are a lot of cacti everywhere. In my street there are so many big agaves. It was obvious for me, the name would be related to deserts. Agave Road Hats was the result. My hats are unisex and I give each one a name. The name for a woman or man does not matter, everybody can wear them.
JonCha | Agave Road Hats near huge agaves near his home (Photo: Hélène Mulder)
How do you get inspired for creating your hats?
The main inspiration for my hats comes from books. Usually when a character becomes strong for me, I visualize what kind of hat he or she would wear. For example, I love Hard-boiled literature from authors like James Crumley, Harry Crews or Joe R. Lansdale. Lansdale wrote the serie "Hap Collins and Leonard Pine Mysteries".
Besides literature, the very strong identity of this part of the region inspires me. It is the region of the gardians, the French cowboys with the horses, the hats, the boots… Also traveling around in nature here and the amazing colors I see. The feeling of the wilderness often makes me want to create hats.
Please explain the influence of books' characters  on your hats.
I just spoke about Lansdale's characters "Hap Collins" and "Leonard Pine". I created 2 hats that have basically the same colour. One hat is called Hap and the another hat is named Pine. I created a bit of dirt. For me, these hats would be worn in this type of Hard-boiled literature. Hap is my everyday hat, it's a fun hat, the character is also funny and badass.
The hat Vanstone is more elegant, without burns. The heroin in the book "No name" by Wilkie Collins has a really strong character. It is the late Victorian period in England. The colour is pretty heavy, it is clean. When you wear it, you are really present. I would see the characters in the book with these kind of Vanstone-hats.
I believe that characters have a soul, created by someone. Through a certain passion the soul can travel. When you wear this kind of Hap-hat, you have a Hap inside you. You have the strength a Hap or Pine has. And when you wear the Vanstone, you have a part of this woman, that makes you feel strong.
"I am satisfied with my work, not when the hat is well made, but when I feel the hat has its own soul and tells its own story.
I don't want to just make hats. I want to make something that has the power to tell stories through centuries."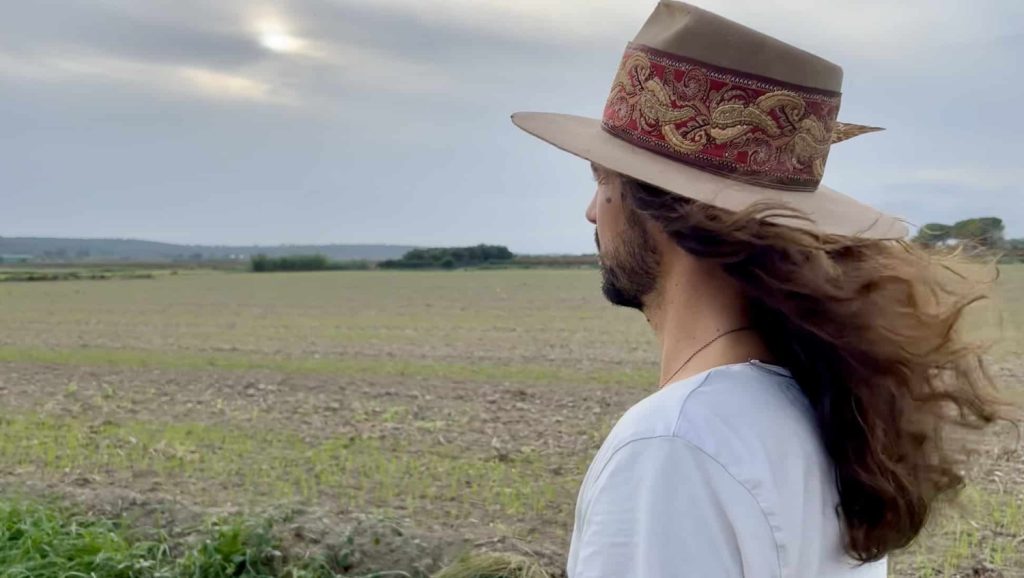 How would you describe the signature of your hats?
Imperfection since it creates a soul. My hats look like they have been worn. With imperfection, I create unique products. My hats are slightly or heavily distressed. You will see the dirt and burns. The patina makes the hat look older. I really work on not perfectly cutting the brim to avoid the looks of a factory product. It is all made by hands. I would say Agave Road Hats are gently distressed Western hats.
JonCha | Agave Road Hats. Reading is his passion and inspiration. (Photo: Hélène Mulder)
Can you describe how you feel when creating hats?
When I make hats, the main feeling I have is peace. It is very meditative. First of all, you work with felts, which have a smell. Then you work with steam, which brings moisture. There is something very physical and organic about the whole process, that is very relaxing.
I feel peace. It is not introspection, I am empty. I can work many hours without thinking about it. Everything is subtle, gentle. All is repetitive. You have to steam a huge amount of time. You forget the time, you forget yourself. You just work making something that looks like nothing and slowly a beautiful peace arises. Emptiness, but beautiful emptiness, is what I feel.
Can you tell us more about your creative process?
I am working with ethically sourced rabbit felts. A strong material, that reacts very well to heat. The first thing is blocking the hats. In the beginning you have something like a capeline or a cone.
You will work with steam to block the hat. This is followed with ironing and drying time. The next day you remove the fibers, you sand down the felt and burn the extra fibers. You cut the brim. Then I use 2 water-based soft stiffeners that work as patina. Patina is in all my hats. Then drying again. I take away all my ironing – cause it is constantly ironing and steaming.
Then comes the big day when you shape the hat, you add the ribbon and will use shellac, the main natural stiffener, that will make the hat hard. Some minor details follow. It takes about 4 days to make a hat, mainly because there is a lot of drying.
The more I make hats, the more I would like to control all the steps. I try to work as ecologically as possible. I also dye my hats, which takes a day. When I dye, I use natural ingredients from local suppliers, for example plants for dying or 100% natural pigments.
JonCha | Agave Road Hats. Working in his studio (Photo: Hélène Mulder)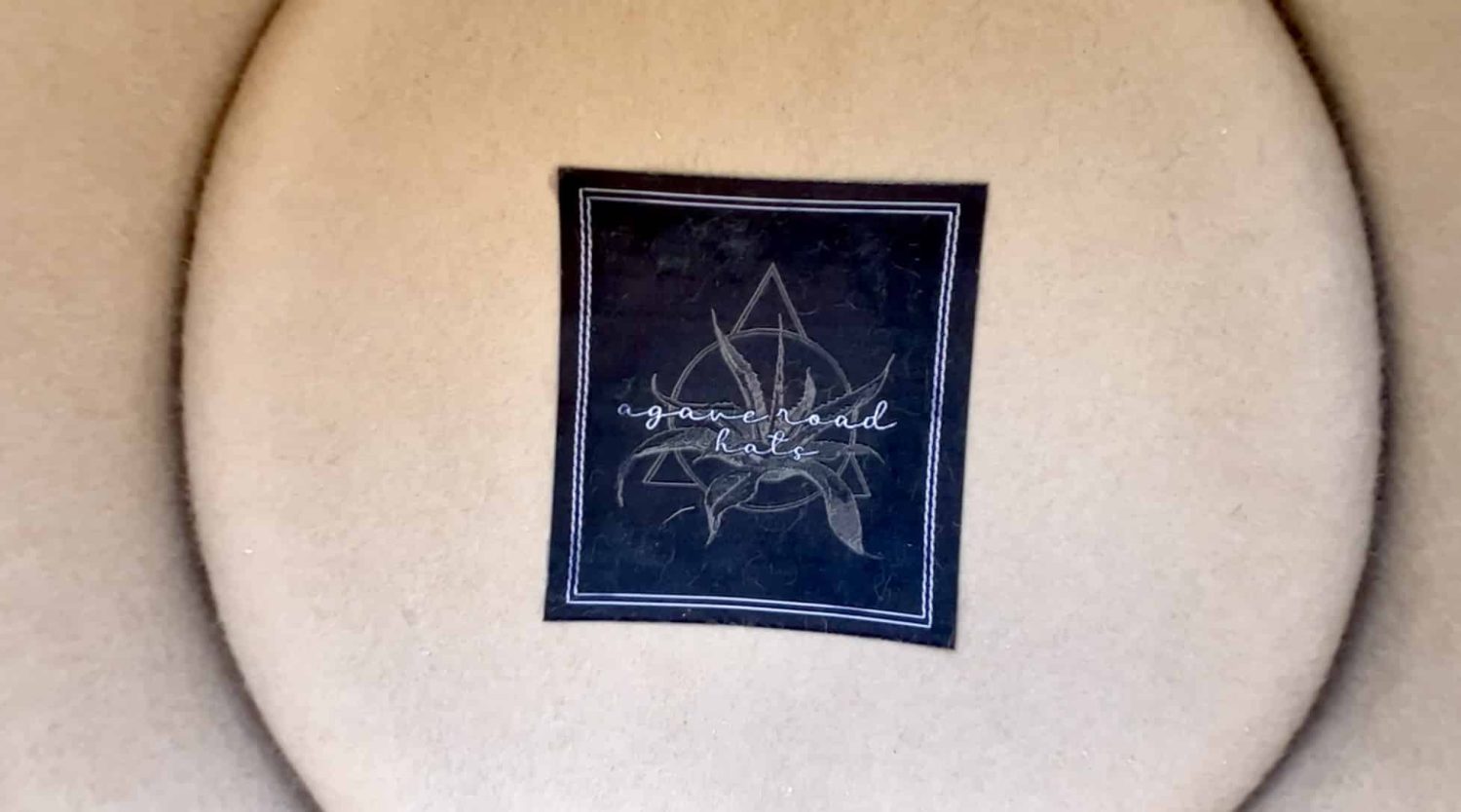 Logo and interior of a hat, handmade by JonCha. Agave Road Hats (Photo: Hélène Mulder)
What makes you a happy man?
[… laughs.] Curiosity. Everything is potentially interesting for me. So basically I am never bored. There is always a conversation. Even if it is the weirdest or oddest conversation, I will probably enjoy it. So curiosity and being interested in new things.
Creativity. I need to create every day, if it is to draw, to write, to make a hat… Expressing myself makes me happy.
Reading & Water at the same level. Give me water where I can swim or dive, I am the happiest man on earth. Give me a book to read, I am the happiest man on earth.
And the last thing Humility, humbleness. I love to be surrounded with people who are humble. Talented, yet very humble because I learn so much from them. Art, art, give me art every day!
When you feel out of your comfort zone?
Every day, I am seeking to be out of my comfort zone! As soon as I am ín my comfort zone, it is time for me to take the next step. With my curiosity and creativity, I have a constant need to learn. Where I know nothing, I am out of my comfort zone and that is exactly where I want to be. I am searching for it every single day. My out-of-my-comfort zone is being in my comfort zone.
What is your dream for the near future?
My dream for the near future is to release the book I am writing now, to tour with my last play Coincé with my company Rose Keller Club.
At the moment I am developing three perfumes. It is a very complex and expensive process but I am not giving up. My dream while extending my hats would be to finally release my perfumes in 2023, because that is also my big passion.
JonCha's recommendations:
Getting lost in the Camargue Regional Natural Park, beside where I live. The light is insane, the wild nature is stunning and you will meet the Gardians, who are the French cowboys.
The Alpilles part of Provence. Saint-Rémy de Provence, Eyguières, Ménerbes have, among other towns of the region, a strong history of art (Van Gogh, Gauguin, Dora Maar, Alphonse Daudet, have painted or written about it).
Montpellier where I studied a long time ago. I have so much great memories there!
The work of my partner Anna Malmberg who is an amazing photographer.
La Petite Librairie in Sommières. Laure and her team really work hard for the development of the culture of the region.
JonCha | Agave Road Hats
Composer, writer, actor, director.
Hatmaker for Agave Road Hats.
Other creators in their chambers:
Karen Maenhout draws, and more than that. Pencil and paper are the materials with which she gives free hand to her rich world of feelings and intuition. Karen visualises and gives shape to deeply felt emotions, both in drawings and 3D pop-ups.
Elena Lin is a renowned choreographer, performer, martial arts practitioner, art therapist, visual artist and instructor. She has developed a highly regarded international reputation for her unique educational programme "House of five elements", which is designed for contemporary dancers and performing artists.
With professional designing skills already in her hands, award-winning Deborah Kiwi immersed herself in the classical, artisan methodology of shoemaking and the less conventional path of conceptual...