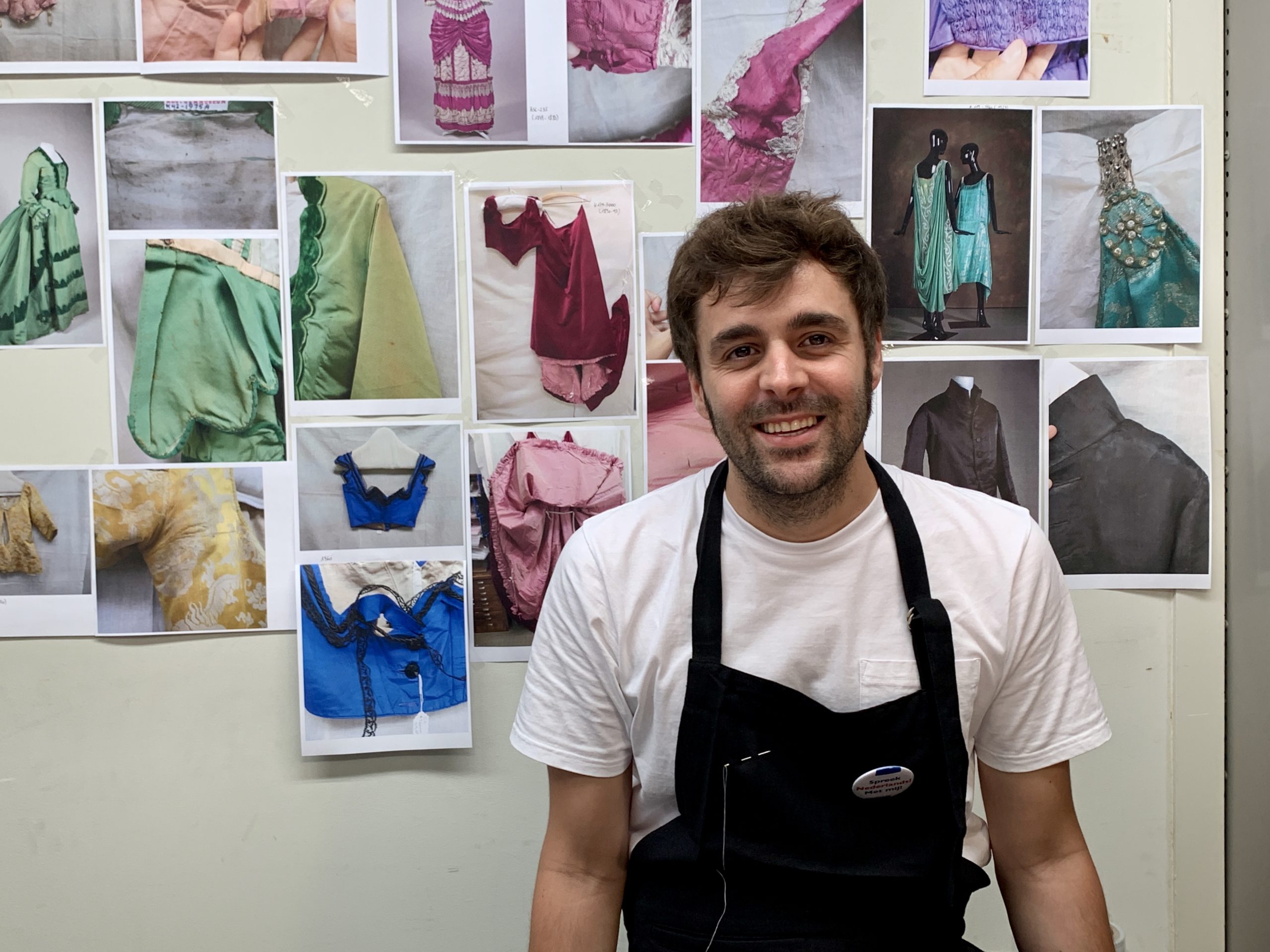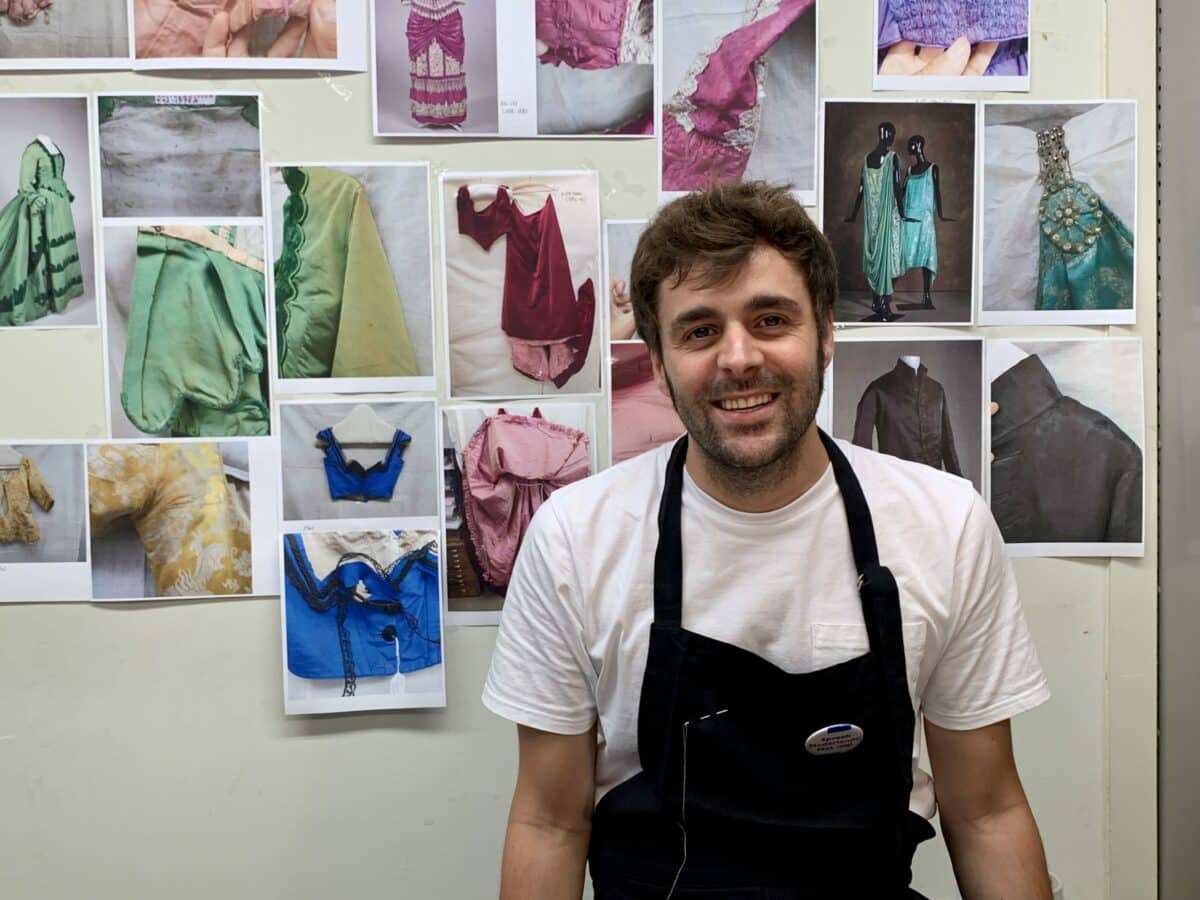 César Rodríguez Salinas, fashion & textile conservator
With the scientific precision of a pathologist-anatomist, the knowledge of a historian ànd a deep-rooted love for fabrics, César Rodríguez Salinas safeguards the fashion treasures for the next generation. As fashion and textile conservator, César Rodríguez Salinas supervises the care of unique, valuable garments of the fashion collection of the Kunstmuseum Den Haag (the Netherlands). A humble and passionate craftsman with a mission to make his meticulous, restorative handwork as invisible as possible.
Your work covers a wide range of disciplines and very specific knowledge.
Coming from Bilbao, my path started at the University of Vasc Country, studying Conservation and Restoration of Cultural Heritage. There I was trained as a general conservator, learning the different disciplines related to this profession, such as the conservation of paper, paintings and more modern materials. During an internship at the Bilbao Fine Arts Museum I was lucky enough to be part of the Cristóbal Balenciaga Exhibition where I could discover the majesty of this designer and his beautiful costumes, developing a sort of connection with them. Following that internship, I got the opportunity to work for Cristóbal Balenciaga Museoa Collection in Getaria near San Sebastian, for 2 years.
In the meantime I decided to do my masters with a focus on analytical techniques, during which I developed a strong connection with science. Diagnosis of the State of Preservation of the Historical and Cultural Heritage at University Pablo de Olavide gave me the opportunity to learn more about the degradation processes of the art objects. The chemistry is quite complex to understand but adapting it to conservation made it easier. Thanks to this master I had the opportunity to meet different conservator scientists who are still part of my research projects at Kunstmuseum Den Haag, where they help me to understand more about the objects I work with.
Luis Rodriguez Anzola was the first person from my family who opened his shop named "Camisería Francesa" at the beginning of the 19th century, offering the most avantgarde designs from France to the citizens of Bilbao. Through his hands passed most of the important faces of the time, dressing mayors, politicians and even artists. Defined by the huge quality of the used materials, the business was continued by the following two generations: Pedro Rodriguez Mares and Joaquin Rodriguez Mombru. In 1972, it was moved to a new location by the creation of the new fashionable movement, named "Pret-a-Porter". Business changed, offering not only costumes to men but also dresses to women. Nowadays, the business is led by Luis César Rodríguez Hernandez and although I did not take his legacy of the business, I still feel connected with all my ancestors. Equally, seeing that some of the first designs made by my grand-grand-grandfather are now kept in local museums in Bilbao, offers me a lot of happiness.
What is your drive as a textile conservator?
My history had a big impact on my choice to study fashion and textile conservation. My family has a very strong tradition working with textiles. Starting in 1890 when the grandfather of my grandfather opened his first fashion business in the center of the old town in Bilbao until the business my father still runs today, I am the 5th generation working closely with fabrics and fashion objects. More than 100 years this passion for textiles is flowing through my family's veins.
Fashion has always been part of my story. I love to research costumes because through the materials you can learn so much about people, about technology developments and about the actual use of fabrics. Researching materials provides a historical context, which is one of the most important parts of my work. By learning the techniques that were used in the last centuries, you also understand the degradation processes of costumes. And above all, it is our responsibility to keep the story for future generations. My role in this is to safeguard the pieces for the ones who come after us, to keep our heritage alive.
How do you experience a new piece of textile in your hands?
With a very old piece I start to imagine how the costume would have been on a real persons body, in movement while she or he is wearing it. The pieces were meant to be worn by human beings, such as this 19th century dress with a very, very long train. In those years the streets were not as clean as nowadays. 
The 19th century was the period when technology developed. Thanks to that, pieces like this dress [fuchsia velvet dress in picture above, red] could be worn by the middle class. Before, these kind of dresses were only affordable for aristocrats or upper social classes. The 19th century brought new technological changes to the society, giving the opportunity to everybody who could not afford expensive costumes. This was especially relevant due to the development of the new synthetic dyes, which shortened the production chain.
So, every time I start with a new piece I wonder about the person who wore this dress, when did he/she wear it, or even for which occasion it was used. We always wear things that are connected with ourselves for any special moment, wondering if this dress would have been worn for an important moment, such as an official ceremony or the marriage of a daughter. And that is when we develop a special connection with every costume, making me wondering how the person was who would have worn the dress before.
What was the most spectacular piece you have had in your hands?
For sure a 18th century costume that was presented in 2017 in the exhibition Femmes Fatales, at the Kunstmuseum Den Haag. A very wide dress – almost 2 meters wide – this "Robe a la Francaise" was missing half of its original fabric, which prevented the dress to be displayed. So, after discussing different possibilities with the curator in charge Madelief Hohé, I decided to bring her on display. That meant I had to carry out a full study of how those dresses were constructed, which materials were used and even how they were worn.
In order to achieve all those goals, our conservation department did a multi-collaboration with different cultural institutes such as Instituto Valenciano de Conservación y Restauración e Investigación (IVC+r) in Spain or The Cultural Heritage Agency in the Netherlands which helped us to understand the degradation processes, the production and the materials. Equally, it was very interesting to see how those dresses would have been made from the study of the pattern and learning that the expensive brocade fabrics at the 18th century were nót cut as how we are used to see nowadays.
Due to their incredibly time-consuming weaving, they would be incredibly expensive. Avoiding cutting the fabric as much as possible, most of the extra fabric was hiding under the pleats. The conservation treatment implied making a stomacher, an underskirt and the other half of the dress in a way that would not falsificate the original, and letting the visitors understand what was the original and what was the piece added during the conservation treatment. It was a dealing process, but the result was spectacular. After so much struggling I was very happy to see the piece in the exhibition rooms displayed.
Conservation treatment of "Robe a la Francaise" by César Rodríguez Salinas for exhibition "Femmes Fatales", Kunstmuseum Den Haag.
Creators and craftsmen often have their signature. Your signature is to be as invisible as possible?
A good conservator would be the person who is not in the picture. The better conservator, the less restorator. A conservator always tries to keep the original intact, to refrain from treating the piece. With every treatment you remove parts of the original, which goes against the ethics of a good conservator. Conservation is passive, restoration is active.
Restoration always implicates touching and manipulating the piece. Conservation means chosing the right measures to keep the piece as best as you can, basically almost with no touching. That is my real ambition: to not remove the history, keep it in place and save the heritage for next generations.
Everything I do, is for an exhibition in the museum. Most of the displayed items have never been shown before, because they were in very problematic or poor state. Thanks to the time I have invested, the piece is now in the exhibition, but nobody can see my work. That is for sure the most exciting moment. People don't understand all the work behind it. They think we just put it on a mannequin. I get the most pleasure out of the fact that people do not see my work. If they don't see my work, it means I have done a good job.
What gets you out of your comfort zone?
Working with people who have more knowledge than I have. At this moment, I work with the Cultural Heritage Agency, an executive body of the Ministry for Education, Culture and Science  for an exciting new project which deals with the identification of many conservation problems attached to the new industrial developments in the 19th century. Fashion always follows the development of the society, reflecting those changes on the used materials.
However, it is not always possible to know exactly which sort of materials we are dealing with or even how they must be treated, and that is when you have to put yourself out of your comfort zone and develop new strategics to learn how to conserve those objects well.
César Rodriguez Salinas' samplebook: a valuable archive with countless tested dyes.
Who inspired you in your professional career?
For almost 10 years I have focussed solely on costumes and fashion accessories. During all those years, many interesting people crossed my path and helped me developing this connection with my job. I have special memories of Miren Arzalluz, director of Palais Galliera in Paris, who let my discover the importance of passion for fashion. And Glenn Peterson, textile conservator of Metropolitan Museum of Art New York whom I had the luck meeting in 2017 during the preparation of the exhibition "Art Deco-Paris" at the Kunstmuseum Den Haag, learned me to look more closely to some of the most spectacular Poiret dresses that he and his team treated before they were sent to our museum.
Your aim for the near future?
I really believe in a multicultural society. I am very aware of what is going on. My aim is to work with more international people. To connect with other cultures in order to learn how they work in other places and to make a project together where we could learn and share knowledge together.
César Rodríguez Salinas' recommendations:
Chemical Principles of textile Conservation (1998) by Agnes Timar-Balazsy and Dinah Eastop

Science for conservators (1, 2 and 3 – 1987) by Museum & Galleries Commission

Textile Conservator's Manual (1985) by Sheila Landi

Textile Conservator, Advanced in practice (2010) Frances Lennard and Patricia Ewer

The cut of Women's Clothes: 1600-1930 (1987) by Norah Waugh

Patterns of Fashion (V Volumens) 1985 by Janet Arnold

Victoria and Albert Museum London

Metropolitan Museum of Art New York

Palais Galliera Paris
César Rodriguez Salinas, fashion & textile conservator Kunstmuseum Den Haag
This exhibition, largely assembled from the museum's own collection, was created during the covid-19 period and tells fashion stories about the symbolism of colour. At a time when there is an enormous need for comfort, connection and hope, it is precisely an exhibition about fashion that can offer this.
September 26th 2020 till February 28th 2021
Other creators in their chambers:
With direct, firm brush strokes and a colourful, pictogrammic signature, Dutch artist Merijn Kavelaars creates strong works of art that are driven by impulse and emotion. Kavelaars seeks extreme...