Eveline Stauffer
visual artist
In a process of many form studies and experiments, fine art painter Eveline Stauffer creates highly colorful works of art. From the former ticket hall of Hindelbank train station, Eveline makes her artwork with Swiss precision, order and a life-long fascination for shapes. An interview with this remarkable visual artist. The first time Creators Chambers produces a visual story at a distance in an exciting collaboration with Eveline and her husband photographer Peter Christensen.
You are a painter of colorful works, with your own language of forms. You developed your world of shapes and symbols. How did the beginning of your symbolism start for you?
I remember that as a teenager I experienced a kind of happiness at the sight of aesthetically exciting shapes as well as special color compositions. Consequently, soon came the desire to develop shapes myself.
In the beginning, more than 20 years ago, I often sketched, let signs and writing flow into paintings. Thus, I developed my own language of symbols and signs. Nowadays, my sign language is reduced to shaping and form surfaces. Shapes have a great symbolic power. I am interested in reducing shapes to a minimum without losing their intensity.
I am very experimental in developing shapes or combining colors. My language of forms is a clear language, sometimes even very structured. To develop a clear shape, which appears unlimited free. A challenge that is fun. This ambition to always create exciting shape and color compositions is tireless for me, I love it!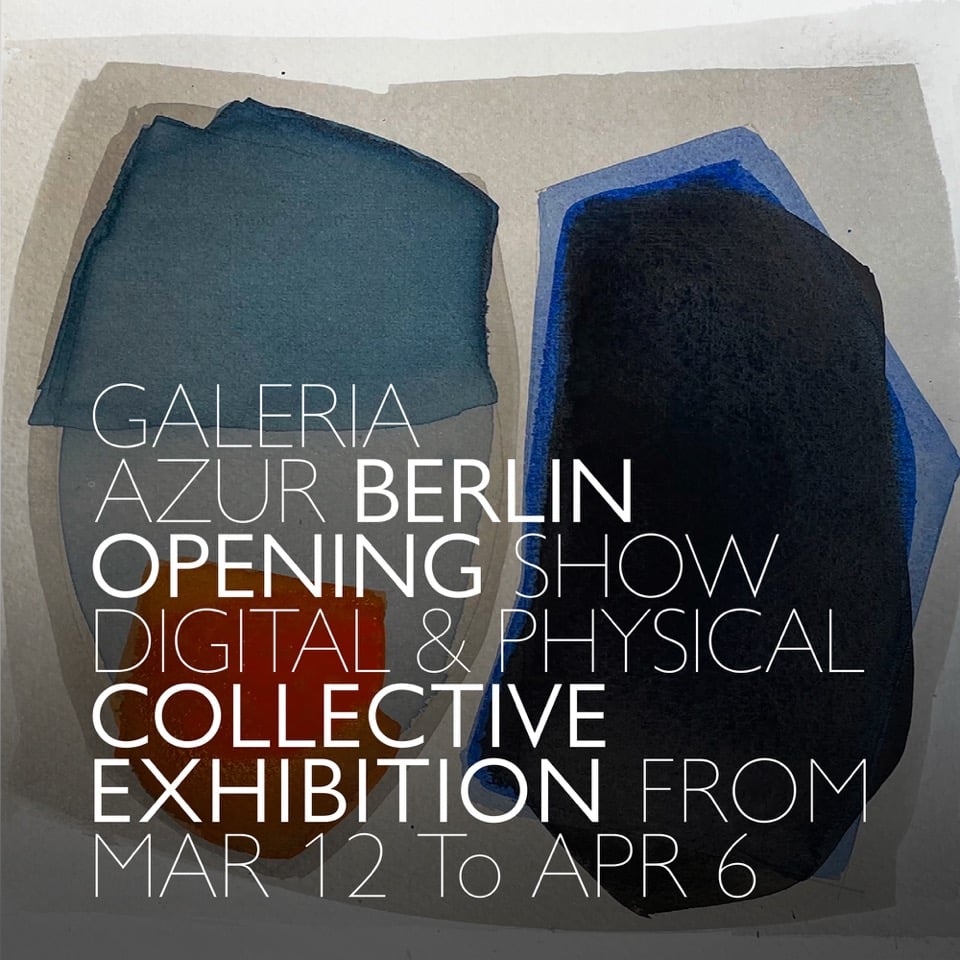 Eveline Stauffer's research into forms.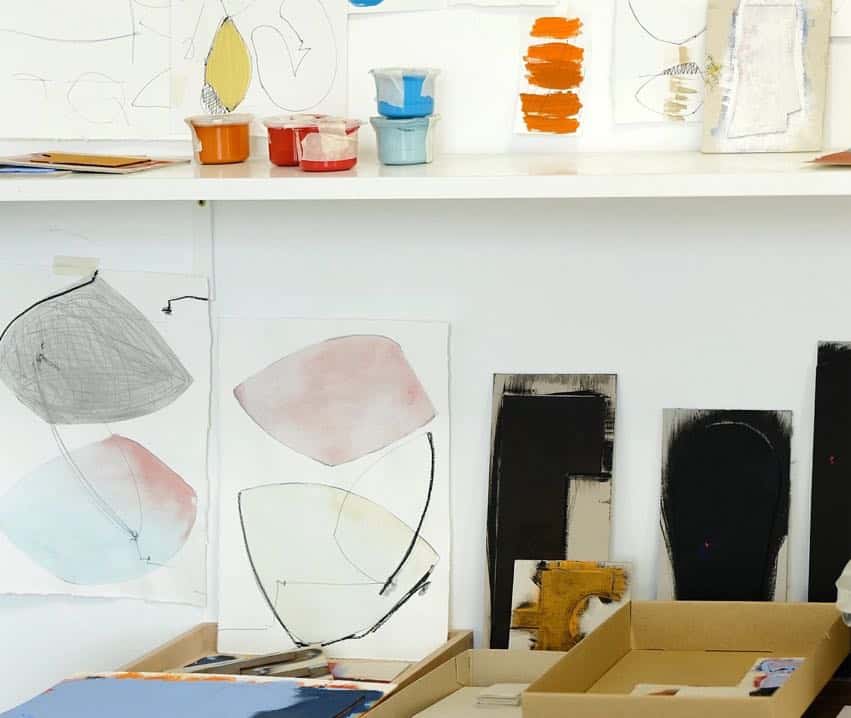 Eveline Stauffer's Swiss atelier.
Do you repeatedly use specific colors?
I use similar colors over and over again. Nevertheless, they always appear different. When a painting consists mainly of a shape, the color is enormously important. The color must be exactly right. I would say that I am a professional when it comes to mixing colors. Part of my aesthetic, especially the shaping, often has its origin in nature. I love repetition of shapes, so I often do series. Not that I'm obsessed with a shape, but repetition is what makes a shape interesting. It allows me to feel and experience it more deeply. If it comes in various colors, I can experience it in different ways. I don't know what it is, it just gives me pleasure.
Which materials do you work with?
I use for my paintings either special handmade paper from Italy or canvases. I paint mainly with acrylic, pigment and watercolor. Often, I add ink or chalk to it. I also use a lot of cardboard. Before I paint a shape, I cut it out in cardboard and play with it to combine new shapes.
Eveline Stauffer, experimenting and combining colors in her atelier.
Why did you chose painting as your form of expression? What is your ritualistic path to your creativity, to get in your flow?
I chose painting as a form of expression because I love to combine shapes and colors. I can express myself best with it. And the pleasure I get from it is enormous.
To get into the flow of painting I need my studio or a temporary studio like during my "Artist in Residence". A space that inspires me. A place with which I can enter into communication.
But the actual start of a new series often happens long before the work in the studio. I need inspiration. Somewhere I see or feel something that I want to express. I want to give it a shape. Usually, I then work for a year or longer on a theme. The themes are very diverse. And then follows the incredibly great and joyful urge to bring everything on paper or canvas. Sometimes I have the feeling that the preliminary work of developing a new language of forms takes much longer than the actual implementation process, apart from the fact that this also takes a very long time. I paint everything stroke by stroke with relatively small brushes. 
You work in Bern from an unusual studio, the ticket office hall of Hindelbank station in Switzerland. What does that space do for you and for your work?
To be able to use a former rail station ticket hall as a studio is just great. In the room where I paint was once the ticket hall, what a beautiful imagination!
It is a place with alternating movement and tranquility. Contrasts and opposites collide in this place. Perfect for creating art.
And who doesn't know the wanderlust feeling from the train station? It is most beautiful in the evening, when people come home from work. Then the station is immersed in an evening relaxation. In the morning, it's rather hectic.
Eveline Stauffer's atelier in the former tickethall of Hindelbank station.
Due to covid we could not meet in Switzerland for this interview and the shooting of your short film. Your husband, photographer Peter Christensen filmed you and your creative process. You have a wonderful collaboration. What is the added value of you working together?
I would call it a great privilege that I can always share my work as a fine art painter with my husband, fine art photographer and graphic designer Peter Christensen. There is probably no one who knows me and my work better than he does. That makes a lot of things a lot easier.
We have a great mutual understanding of creative and artistic processes. In such phases, everyone needs a lot of space and time. And we give each other this space.
Another added value is certainly the mutual support and the frequent conversations that stimulate our work. And fortunately, we don't think everything the other person creates is great – that also makes it exciting.
And then there's the practical part. He photographs and takes over the entire graphic part. I do the framing and the organization of the administrative work. It fits wonderfully.
Eveline Stauffer at work.
What brings you out of your comfort zone?
The phase after a finished series. When the painting phase is over. Even though I've known this for more than 20 years now, I have to consciously enter this phase. For me this means to be able to let this passive period be passive. It is important to become empty during this time, otherwise there will be no new series. And that is only possible through active passivity.
What is your goal or desire for the near future?
I experience my work as an art painter as a privilege. The fact that all this is possible makes me enormously happy and grateful. I do what I love to do most every day and even earn money with it. It could hardly be any better.
"For me personally, I wish that I can always continue to live my freedom as an artist – in whatever form. And for all of us I wish that the word "share" becomes one of the most important words of our future." – Eveline Stauffer
Eveline Stauffer's recommendations:
About the Artist:
Eveline Stauffer, based in Hindelbank Switzerland
website
Other creators in their chambers: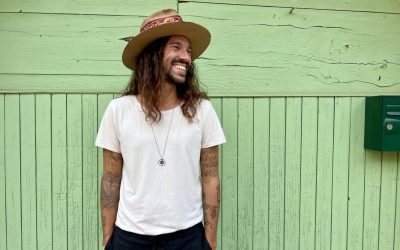 JonCha Agave Road HatsJonCha, short for Jean-Charles, is a French multidisciplinary artist, operating in the world of theater and storytelling. He works as a composer, director, actor and...
Karen Maenhout draws, and more than that. Pencil and paper are the materials with which she gives free hand to her rich world of feelings and intuition. Karen visualises and gives shape to deeply felt emotions, both in drawings and 3D pop-ups.
Neville Mars has several websites for his numerous international projects. He honestly admits these sites are poorly maintained and lack a uniform look and feel. What can we learn from Neville Mars about online presence?