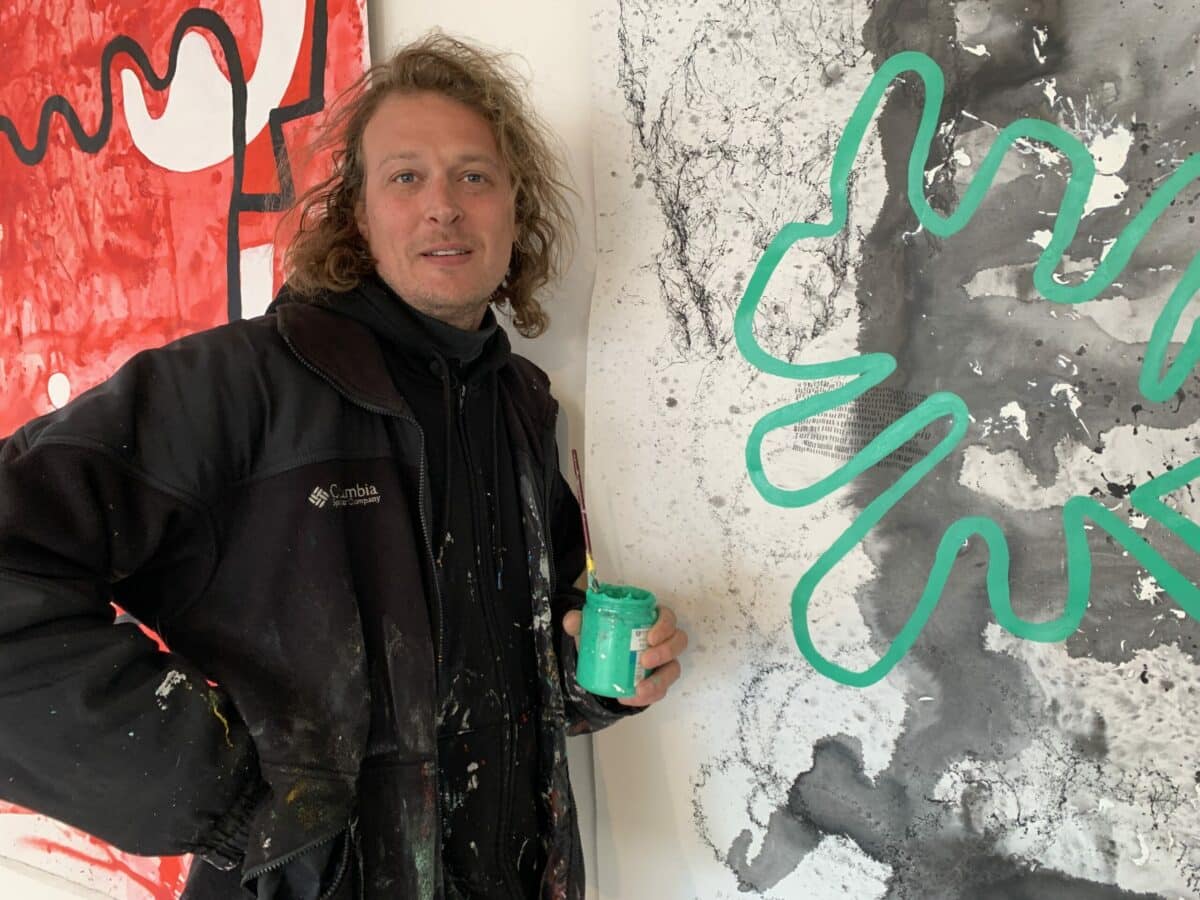 Merijn Kavelaars, paintings and installations
With direct, firm brush strokes and a colourful, pictogrammic signature, Dutch artist Merijn Kavelaars creates strong works of art that are driven by impulse and emotion. Kavelaars seeks extreme experiments, such as confinement, social isolation and loneliness, to experience creative freedom. His motto: intuition and no boundaries. Kavelaars' installations, paintings and sculptures have been exhibited in Shanghai, Amsterdam, Paris and Copenhagen, among other places. We meet in his atelier in The Netherlands.
With a clown and painter as father, performance and expression in your DNA, can you escape from what you are doing?
Agree! And that combined with the fact that language has never really been my thing, having dyslexia, this is my way of expressing myself. My father introduced me to it at a young age. As a child, I joined him to his performances as a clown. I sometimes made his posters, I loved that. That really, really stimulated me to develop myself in that area. Funny, it took me until my 23rd to decide to completely focus on painting. Although I was always drawing and painting, I never had the intention or thought that this could be something that would shape my future. I then started to paint a lot more and discovered that this is what I feel most comfortable with and where I can really express all of myself. That's certainly because my father showed me at a young age and I'm very happy with that.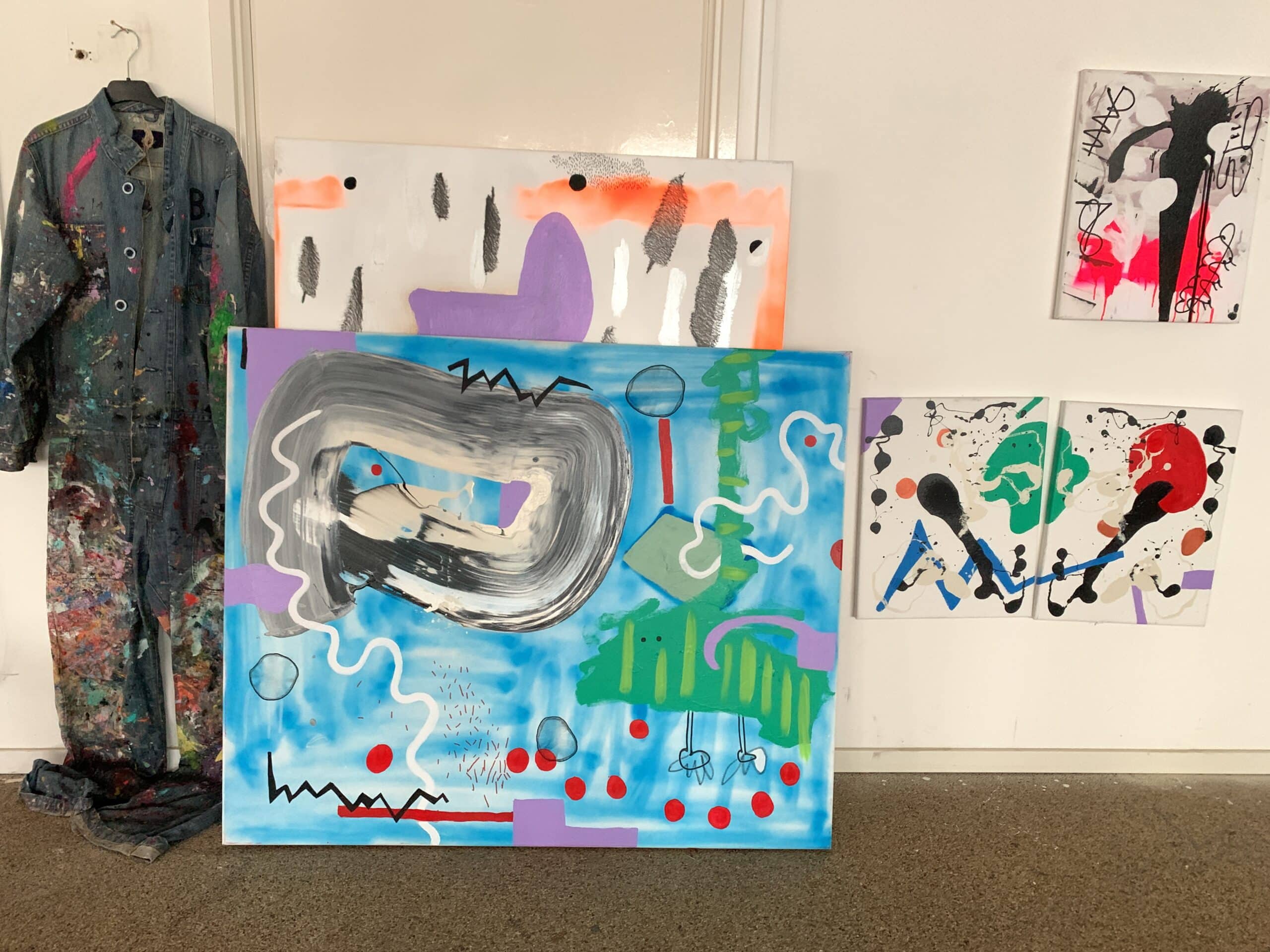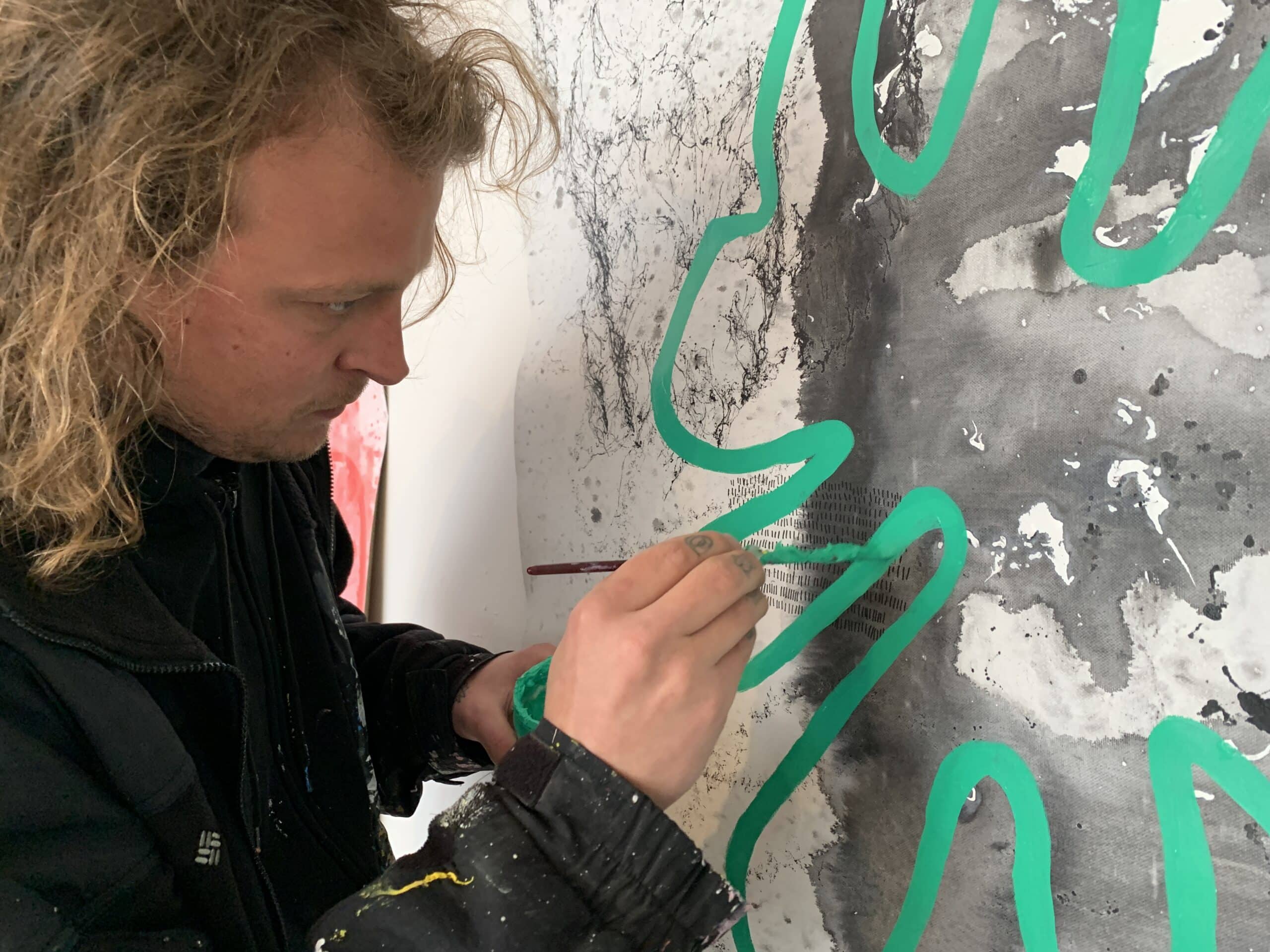 Merijn Kavelaars' paintings and sketches in his atelier in The Netherlands.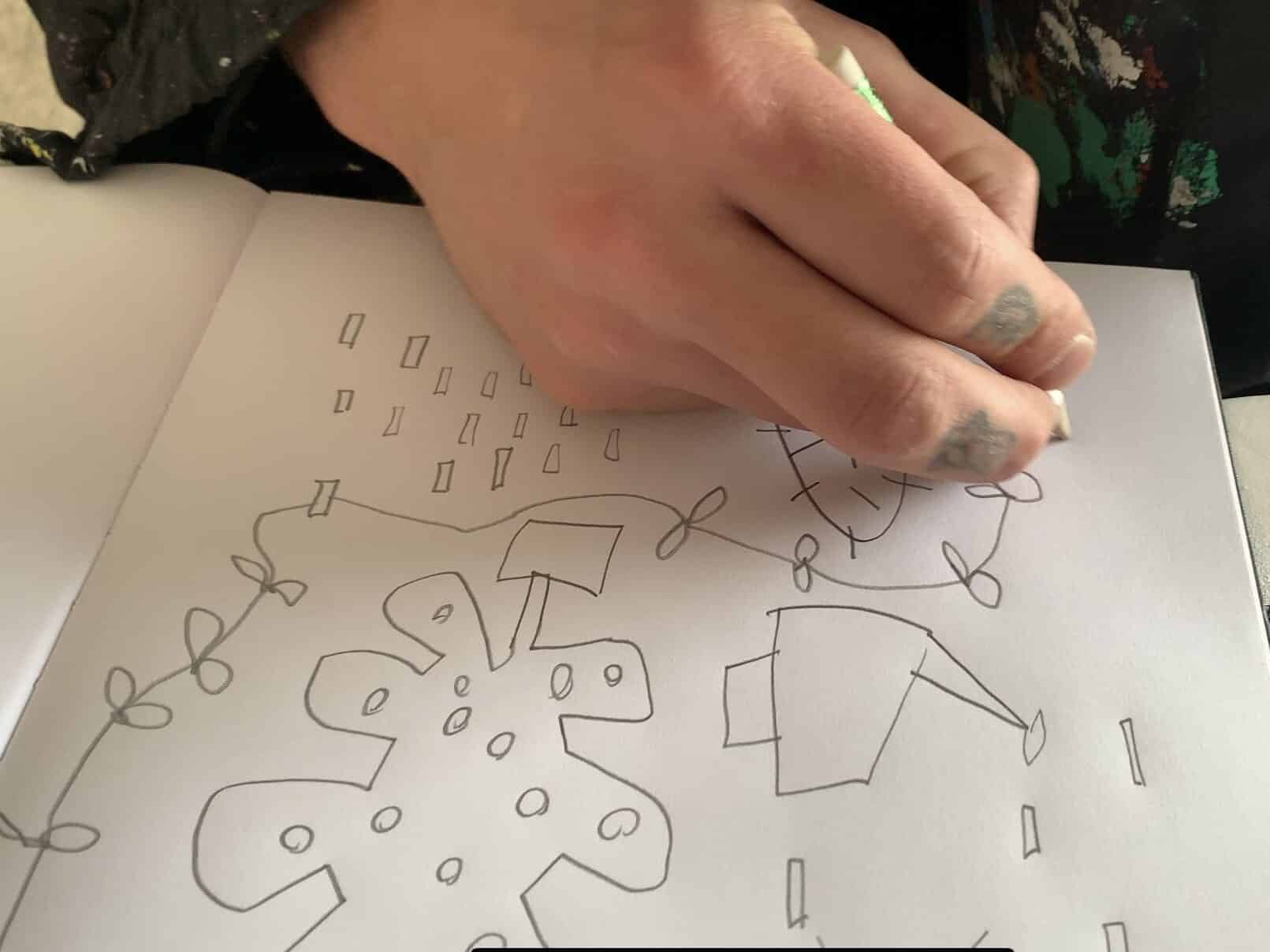 Keith Haring, Karel Appel and Jean-Michel Basquiat inspire you. What do these artists trigger in you?
What appeals to me most about these three artists is the fact that they have a direct approach to the canvas. There are very few artists who have that ability. In my opinion, this is something that cannot be learned. You either have it or you don't. The expression, the directness, the harshness of painting, I love that immensely. And they also have very childlike elements. That appeals to me enormously, both in the expression and in their way of working. I think that is the most beautiful thing in painting: if you see that an artist really has the ability to work with a free hand, those are also the most powerful works ever made, in my opinion.
How did your figurative alphabet come into being?
My alphabet was born when I lived in China. Dyslexia is something that has haunted me all my life. In China I had to deal with the language – well, good luck! It is a beautiful language but I could not see the wood for the trees, I got overwhelmed. I started to get interested in calligraphy, the technical aspect of it. In Shanghai, you would see many older Chinese men practicing on the ground with water to refine their calligraphy. At first, you have that print on the ground and then it evaporates. I found that such a wonderful starting point to delve more deeply into that. I'm not Chinese, I don't master the language, who am I to touch that? Nor did I have the ambition to immerse myself fully in the language. Then one day I went to Lijiang, a region in China, and there they still use Dongba script, an old Asian script that is very pictographic. So that made sense! I wondered why we didn't use it all over the world because it was so clear. I decided I wanted to use that. I dug into my old drawings and sketches, because I knew I had created some kind of secret language as a child. I put the Dongba script together with the alphabet that I used to use, and that's how my alphabet came about. It started, being an illiterate in China, now I use this alphabet very often in my work.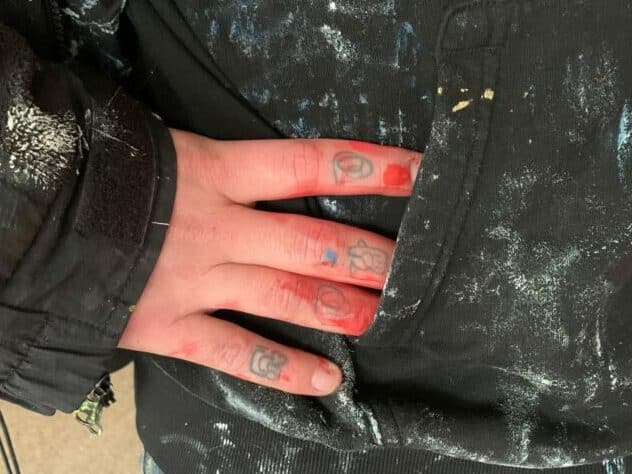 KOVO, the name of Merijn Kavelaars' son, tattooed using his alphabet.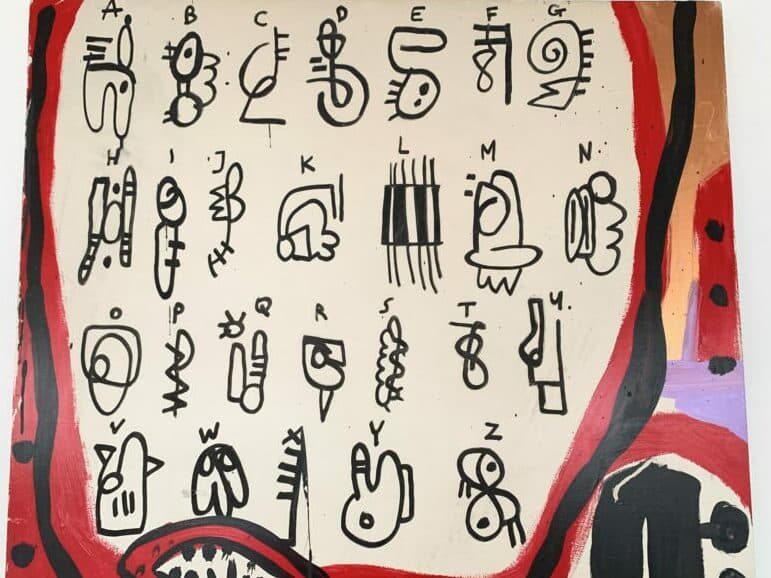 Merijn Kavelaars' alphabet, painted on a door.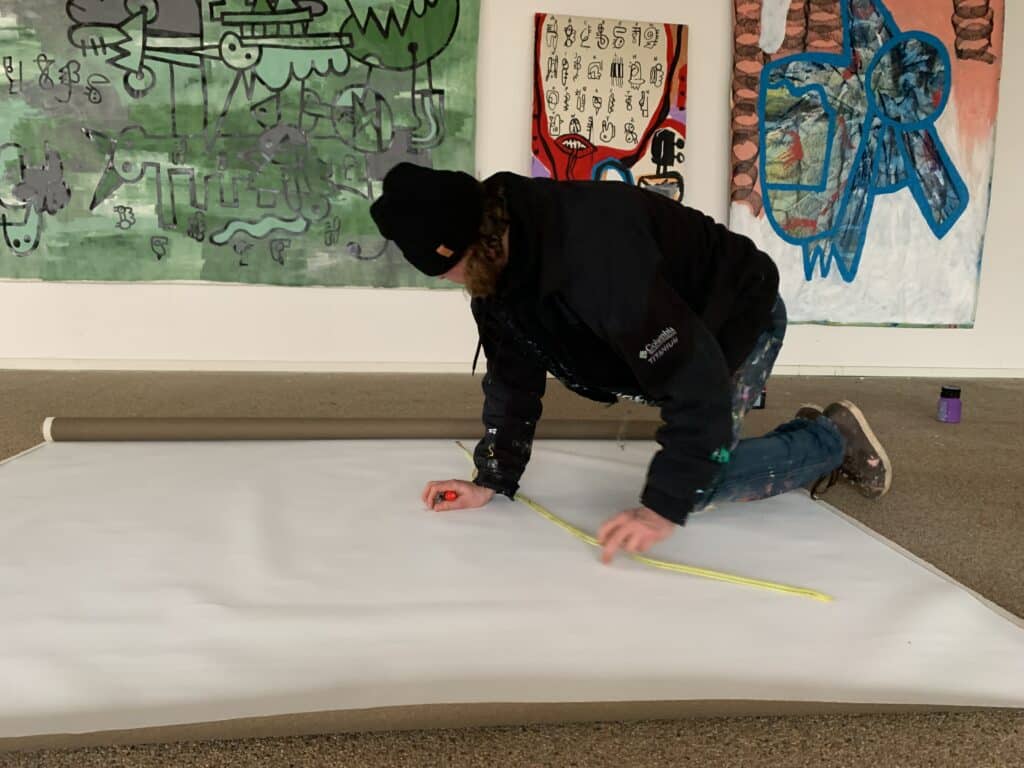 From Amsterdam, you left for a new planet, Shanghai. What did you discover within yourself, there? 
My environment plays an important role in my creative process. I had been active in Amsterdam for 4 years and I noticed that I got blocked. I was getting stuck in Amsterdam.
Everything was going really well for me, externally. But internally, things were going wrong. I knew that something radical had to happen. I struggled with the development of my work. I was unable to break through certain patterns. I had no idea what I wanted to do, but I knew that I had to throw myself off a building, so to speak. I thought of buying a van and travel. Where to, no idea, for how long, no idea. As long as I was painting.
When my work was exhibited in Shanghai in No Man's Art Gallery, I went there for two or three months. I immediately noticed that Shanghai had a very strong influence on my creative process. I was in a different environment, in a different culture where everything is much harder but also more grand and dynamic. I immediately noticed that my brushstrokes became much harder and more direct. I started working with Chinese ink, I started making murals. And that really led to the development of my work I make today. 
What is in me, came to the surface in Shanghai, because I got the opportunity to work on a much grander scale. I also had the guts to do it there. In the beginning, you are literally "Lost in Translation" and that feeling gave me a lot of creative freedom, which I needed at that moment. That was very valuable to me, and it still is.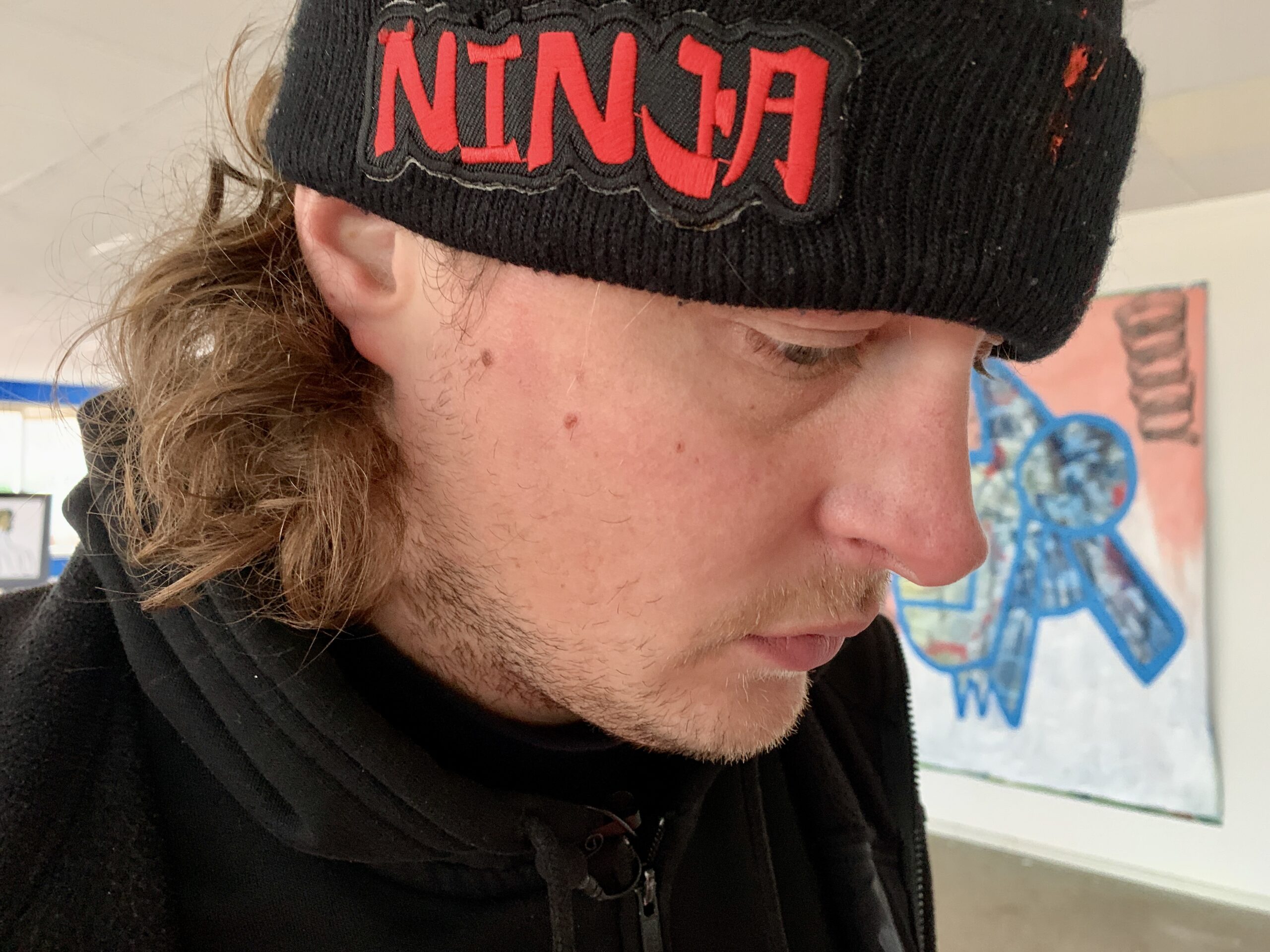 Merijn Kavelaars in his studio in The Netherlands.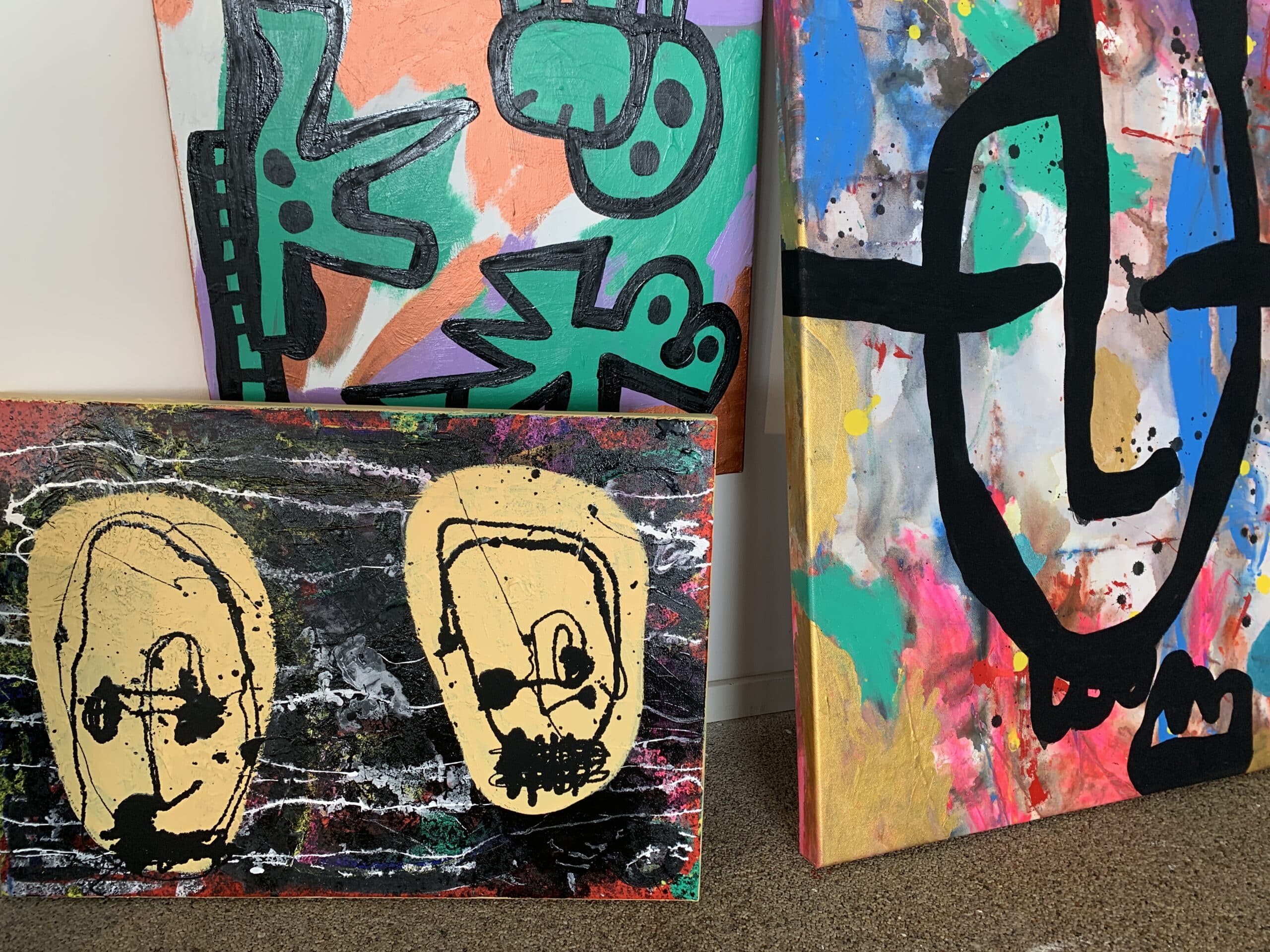 Work by Merijn Kavelaars.
For exhibition "No Good Can Come of This" (2016), you spent weeks in an old police station, in complete isolation. A bold choice, why?
More and more, I returned to Holland. My time between China and Holland was divided 50-50. When I was here in Holland, I was trying so hard to create the work that I made in China. Strangely enough, it didn't work out as I wanted. That really started to frustrate me. "Those brushstrokes are made by my hands, not by my Chinese neighbour. What's wrong with me?", I asked myself.
I got deeper into it and one of the causes I could discover was simply solitude. I wanted to put myself to the test and came up with the plan to go into complete isolation for 3 weeks, in the middle of Amsterdam. To isolate myself in the lion's den to find out for myself: why can I create in China and not here?
"Once a week someone from the gallery came to bring food and paint. That was literally the only contact I had. I had an emergency phone with 1 euro credit. The first two weeks I was just messing around. I was working all the time but it just didn't happen. I kept fiddling with more sophisticated graphics and lines. Finally, I became really, really angry with myself, realizing I was behaving like a pussy, who was meowing through the house. My mother always told me as a child: "Stop meowing. Stop whining." I thought: What am I meowing now? I'm living like a pig here." That was literally the case, because I had no daylight, it was winter and cold. There was no real heating, no sense of day or night. No shower, I cleaned myself with a little towel. Eating was as quick and easy as possible because I wanted to get on with work. Because of my anger, I painted half of that room over again. In one week, I did the whole room from head to toe. That was exactly the point I was looking for. My breaking point. I grew past that point, so now I don't have to deal with it anymore. That was the reason why I started this experiment.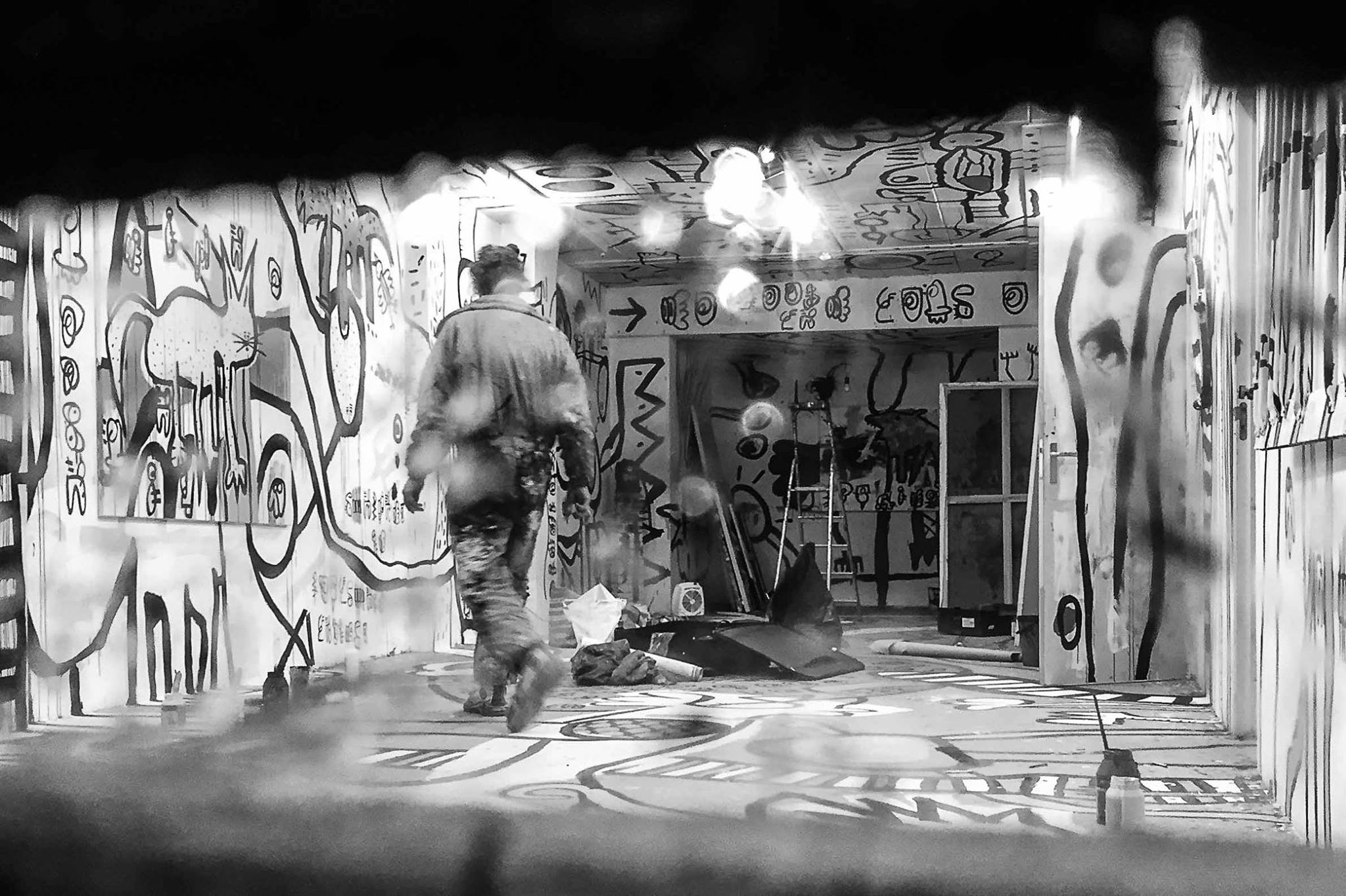 Merijn Kavelaars – "No Good Can Come of This" (2016). Image: Richard van Bennekom (left + right)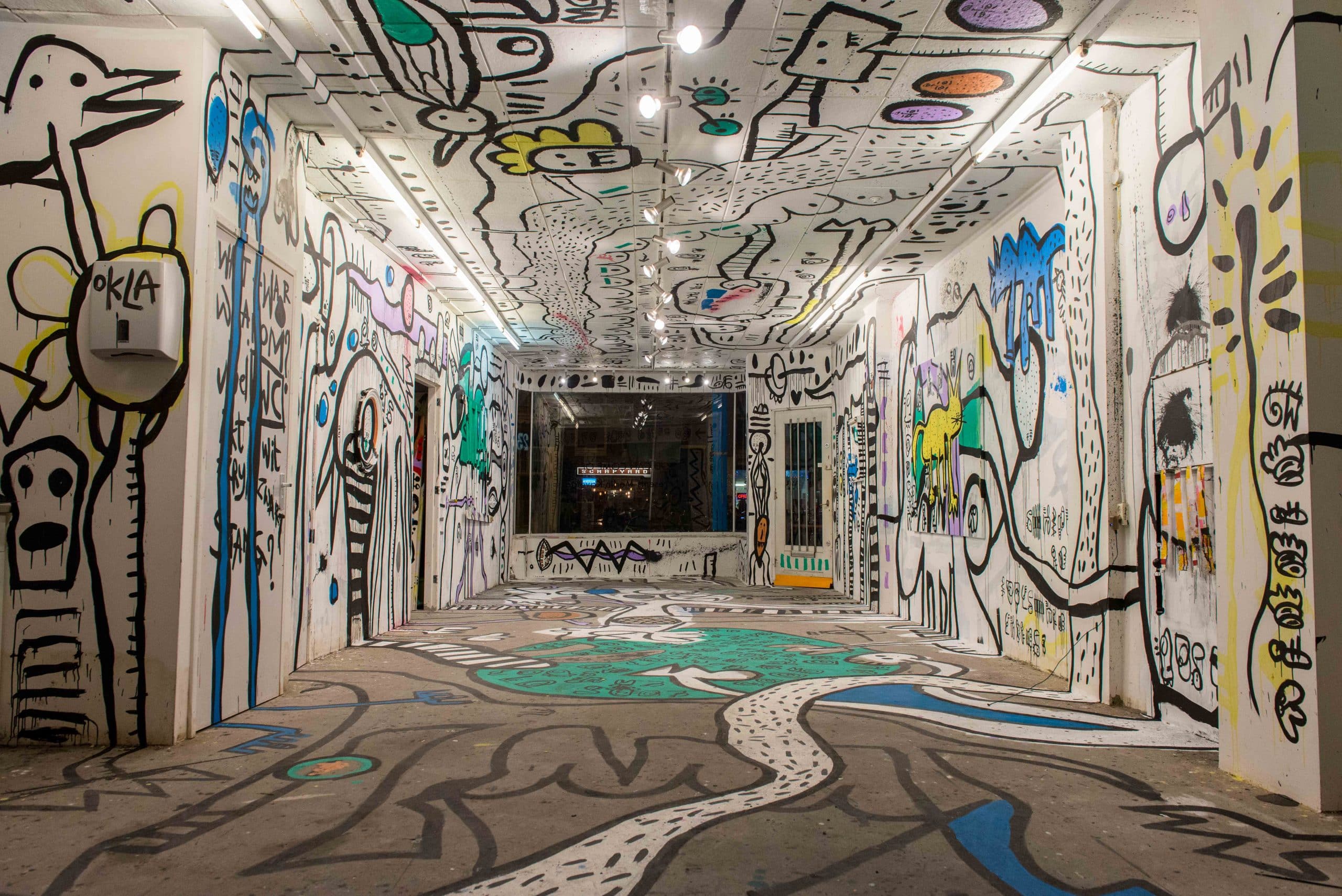 Are deep emotions and frustrations important for your work?
Yes, they are. Absolutely! That is also the reason why I like to work with multiple layers. That way you really create character, I think. I have several works here, that have been around for years. Every time I add something, it is a capture of that moment. Maybe I am angry, maybe happy.
When I build it up like that, I also generate value in a work because you feel it, because you see it, because you smell it. So, emotions are very important in my work. If I have made a work and I decided that it is finished, then often, after a certain period of time I discover the reason for the work. I made it with that particular emotion, but at the time I didn't realize why I painted it that way. I may have changed it with a very heavy brush, so to speak, and ruined it completely, having to repair it again. That is very insightful for me. My work communicates more clearly with me than I do myself.
You choose surfaces like walls, floors, ceilings and furniture, because the canvas is too restricted for you. Are you boundless?
Yes, I am boundless. I am always looking for challenges that at first may seem too extreme. If I have to ask myself the question: "How am I ever going to do this?" then I know I'm heading in the right direction and I can push myself to the limit. 
Limitlessness is something I always strive for and I always try to challenge myself. If I don't have that, I miss the power in my work. It is essential that I constantly impose this boundlessness on myself, as far as I can.
After painting several large-scale murals, you got an opportunity of monumental size. In 2020 the Amsterdam Church became the canvas of your exhibition "My Dogma". How did you handle this size?
That has been a long process for me. I have always been looking for freedom. I'm not religious, I wasn't brought up in religion. It doesn't really interest me either. And then I get this church at my disposal… I hád to do something with it. I had no idea what, but it just had to happen! I would have preferred to paint the whole church, from head to toe. But that wasn't allowed. So I did a collaboration with motion design studio Mr Beam. They specialise in video mapping.
My first goal with the space itself was to completely disconnect from religion and I felt I wanted to come up with more "violence" than the church. It resulted in "my faith". I have not engaged with the themes of the Roman Catholic faith, but I approached the church as a space. I focused more on the architecture, the shapes of the building. There I made the link to my work. We decided to project and film 12 corners of the church. I made 12 paintings. First I painted the photo realistically on canvas and then I made a slow-motion of it. With each stroke a photo, stroke photo, stroke photo… I took about 150 photos per painting. That was digitalised and became the content for the images that were shot. If you look at the video, you'll see that I follow the lines of the church very closely. At first you see the doodles coming up and then I break through it. Then the strong colours come, and the black … It becomes an explosive, intuitive expression. That's what I tried to do there.
I thought long about the name. It was very important to keep a link to the Roman Catholic faith and that's how we came to "My Dogma". My belief: colourful, intuitive and free.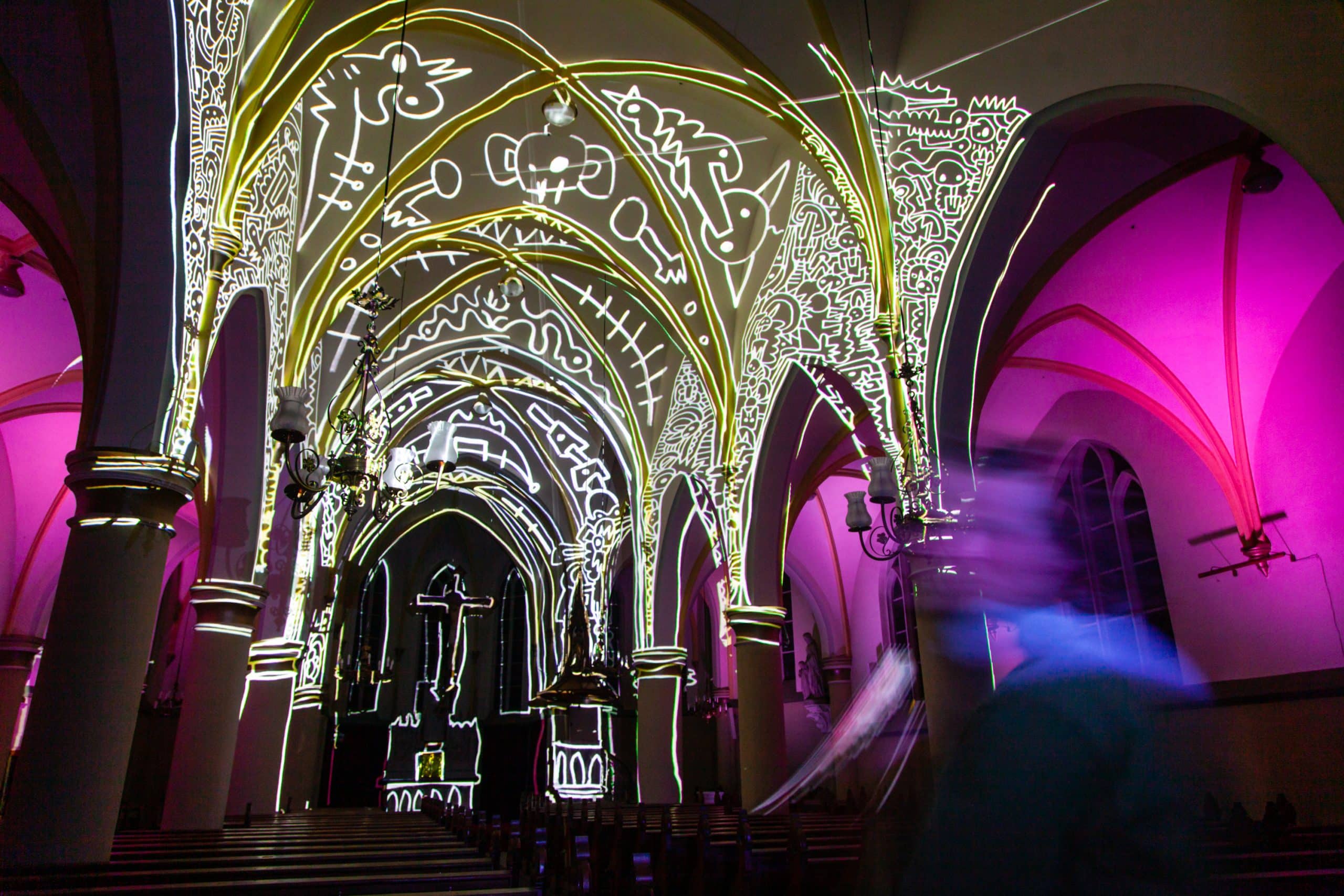 Merijn Kavelaars – "My Dogma" (2020). Image: Geert Broertjes (left + right)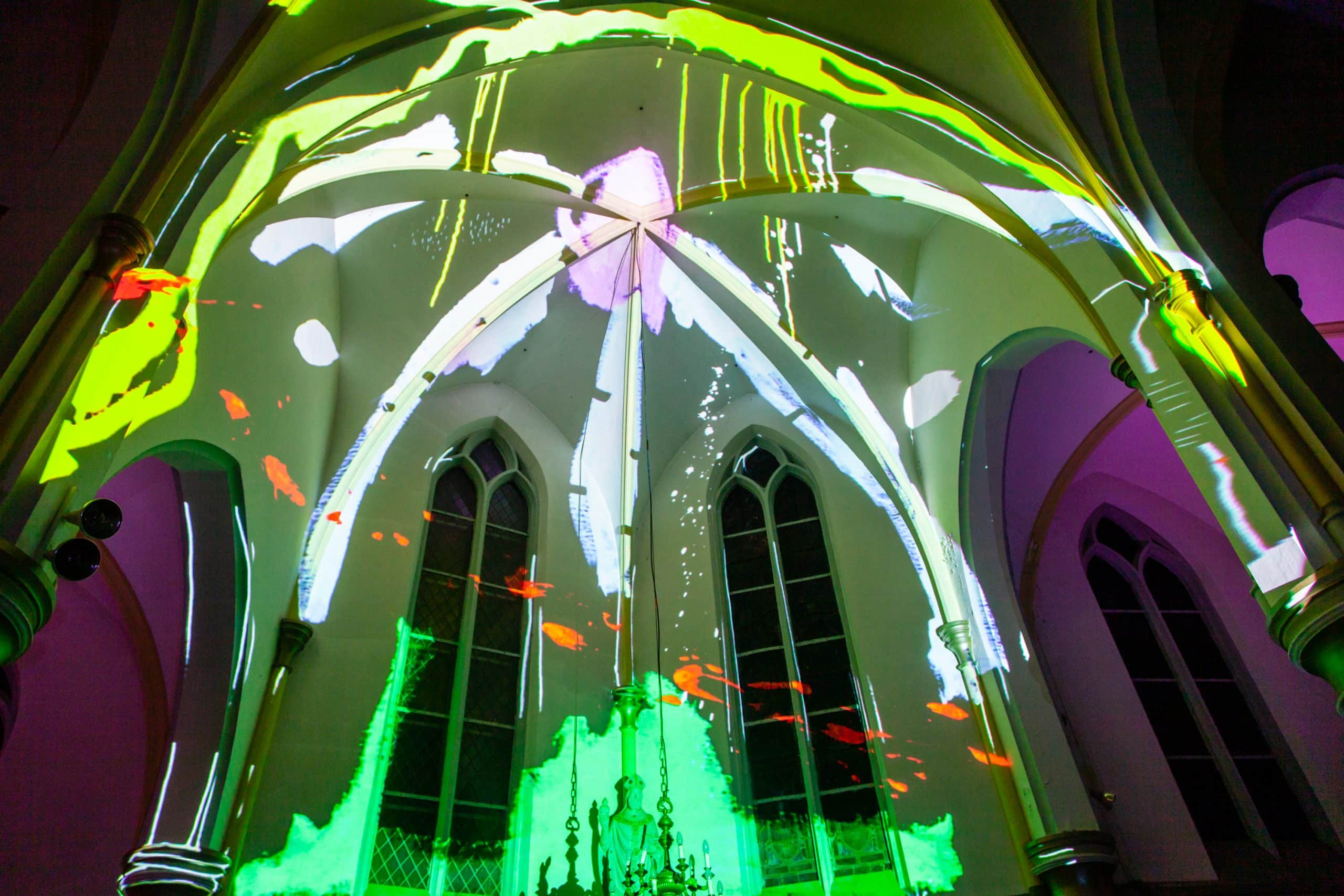 What you need, feels uncomfortable for many people: throwing yourself in the deep, isolation, cultureshock… Who or what gets you out of your comfort zone?
Oh my, that is a very good question. What takes me out of my comfort zone? It becomes uncomfortable for me when the routine starts to creep in. Then it gnaws at me very slowly. Something has to break the routine. I like to be in my own bubble where I can challenge myself and if that is not possible, changes have to be made quickly. Something radical needs te happen…
Merijn's recommendation:
Spend the night in the Casanus by Atelier van Lieshout. 
This polyester sculpture, a gigantic replica of the human digestive system, was designed by Dutch artist Joep van Lieshout as an exclusive appartment, and stands on the grounds of the Verbeke Foundation. 
Other creators in their chambers: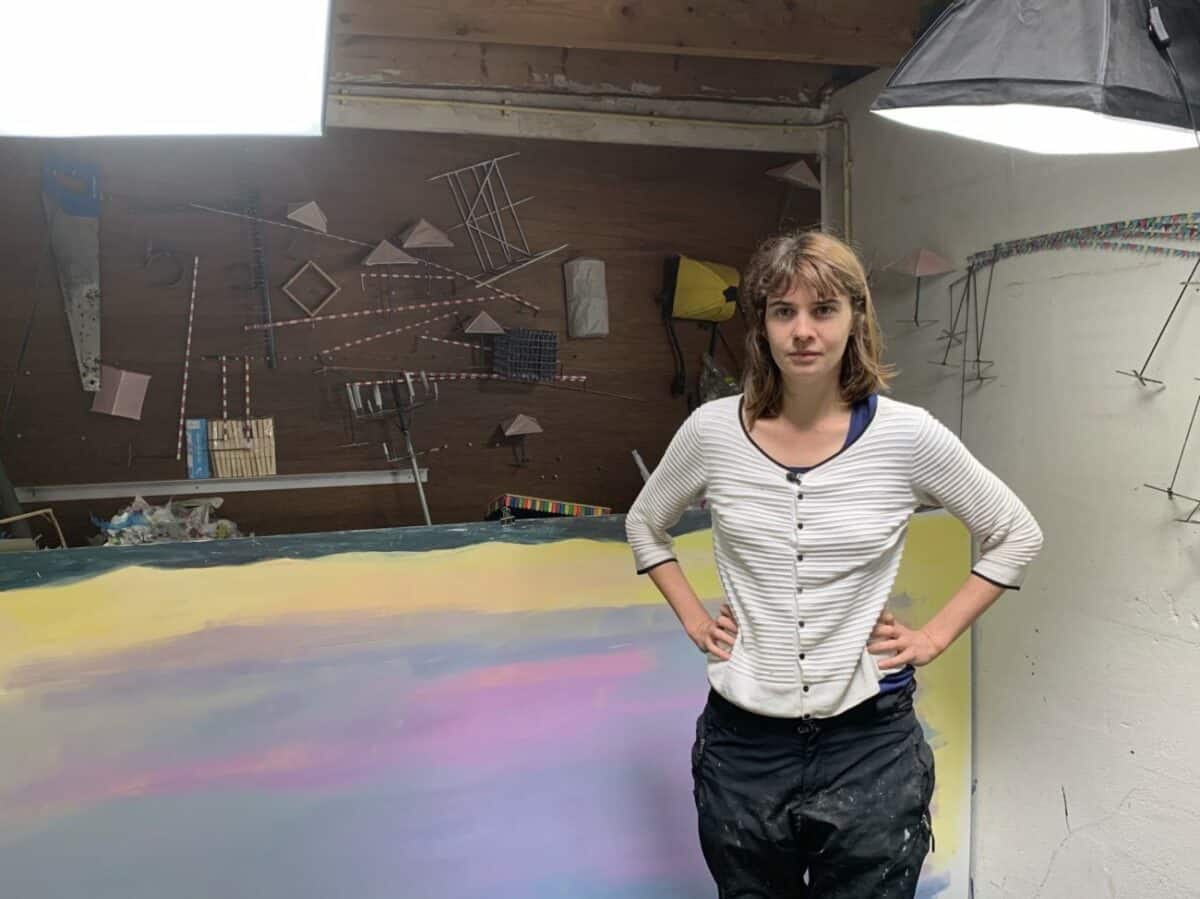 Dutch artist Lisanne Hoogerwerf builds landscapes in her anti-squatting studio in The Hague, capturing them with photography and video. She materializes her own imagination. Staying close to...
Apply to be featured
Creators Chambers' collective supports creators, artists and artisans in their creative entrepreneurship and (art)business.
You want to be featured by Creators Chambers and join our creators' community? Apply here and tell something about yourself.
Grow your audience
Would you like to be more visible online and grow an engaged audience for your (art)work?
Hélène Mulder creates your visual story with video, photography and webdesign. You need help? Send a message. 
sign up today
Creators Chambers delivers short films, photography and insightful articles featuring remarkable creators in your inbox.