Eleanor Herbosch
Painter & potter
In full exploration of her talent, London-Antwerp based, young artist Eleanor Herbosch experiments with materials and mediums, and truly enjoys her many opportunities for artistic development. With Belgian and Dutch roots, Eleanor creates minimalistic and Asian infused works of art. Her paintings feel serene with relief speaking in subdued tones. Still in the middle of her training, she welcomes new discoveries and inspiration in a dialogue with the people who cross her path.
You are a multi talent: painter and potter
I always thought I was going to be a tv-presenter or a host or the weather-lady. Instead of choosing Visual Arts as a subject, I actually choose Theatre. I loved acting, I thought it was really my thing. Public speaking was not a problem until I realised that honestly it was not my thing. Then visual arts came my way. I am really grateful being raised by parents who absolutely love art. It has been around me since growing up. Whether it is ceramic pots, a Chinese mural on the wall, a Panamarenko… I definitely encourage people to try things and see how you respond to experiences.
Painting came along during this study at my high school. We were encouraged to practice different mediums, whether it was filming, whether drawing a still life, whether experimenting with acrylics. This was definitely the first introduction for me with regards to using the materials around me and seeing what creativity can come out of it. Painting was the first that really drew me in. I was interested in the technique of Impasto, building up on layers and creating texture and relief within a painting. Then I started exploring different materials and how to create this texture.
Back in high school I relied on just thick layers of paint and I realised that to me there was not enough story behind it. That's when I pushed forward to using soil and using the materials around me. I am here in a garden-situation studio space. Outside I dig the soil and mix it in with my acrylics, let it dry over a few days to create my relief. This is where I am currently at in my ever-changing ideas or career-path.
I am at this point where I want to be able to encourage people to not feel shy about mixing different art forms, f.e. product design with performance art. I think that is what people are looking for these days, changing it up. Nothing sounds more exciting then saying about your work: "It is not as easy to explain, it is a bit of everything. It is a painting, not just pottery, it is a weird fusion of the two."
What gets your attention now?
I am studying at Central Saint Martins in London, following a bachelor in Ceramic Design, currently on my third year in which I chose to do a year of work experience. I have been lucky enough to learn from Kosi Hidama. I'm ever thankful for him, he really has encouraged me to push my boundaries within the craft and not be afraid to get my hands dirty. He introduced a whole new side of the craft that I really did not know when starting the course. I have one more year, starting as of October. I am thankful for taking a break from the course, become better friends with clay. 
I went into this bachelor with absolutely no experience of ceramic design, let alone have I used a wheel once prior to actually getting accepted into the course. It was quite a journey to get where I am now. Art schools these days are quite competitive. Going into the course, I was one of the few that barely had any experience with the craft, so I felt absolutely terrified. I am almost the youngest of the entire school for my year and also the youngest in my course whereas they all had years of experience, it was nerve-racking. I do hope to do a masters eventually. On what, is still a big question. It would be more towards Fine Art rather than just Ceramic Design. It was definitely important to fully immerse myself within the craft to really understand it before the experimental phase which I am already trying out right now. But I definitely see myself studying in London again.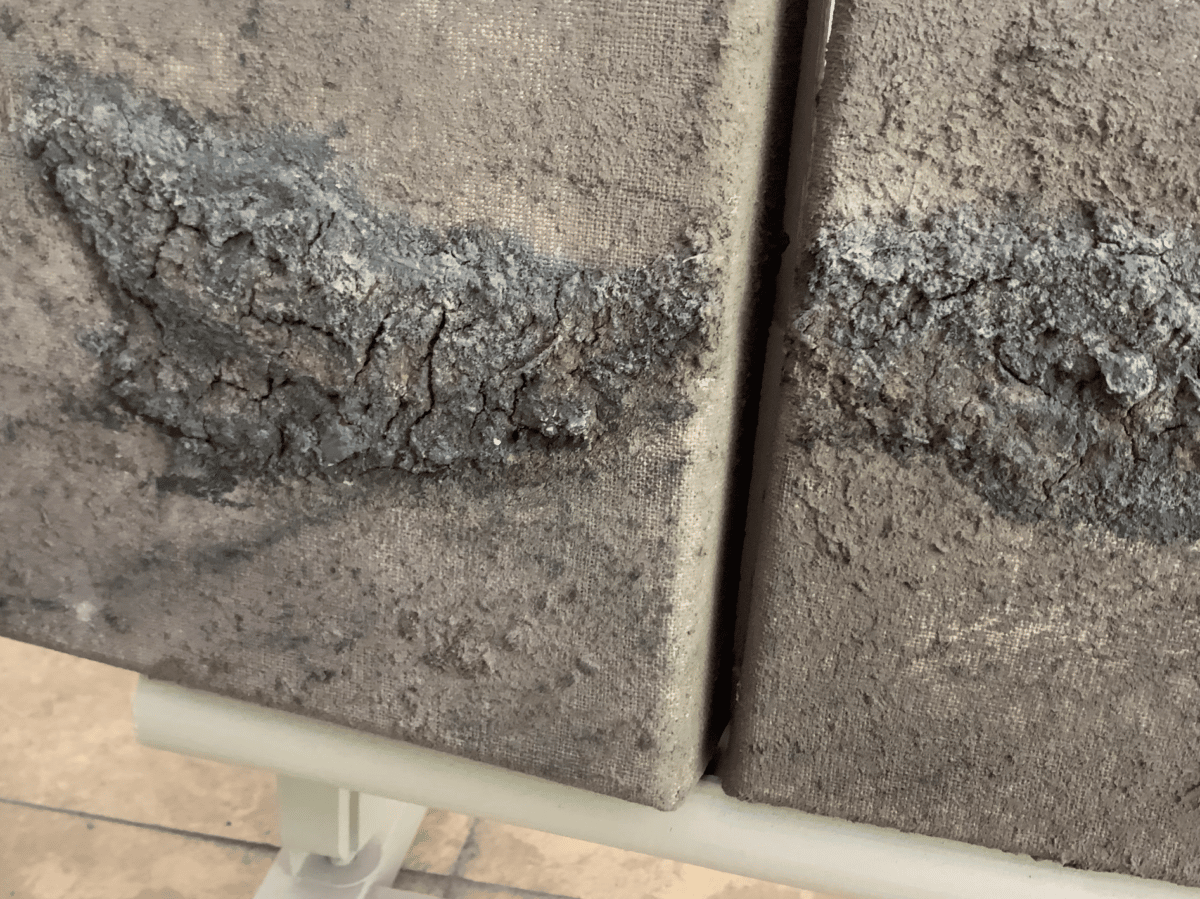 Are you critical in your use of materials?
The main focus of my final year at Central Saint Martins will be to collect clay-bodies from different locations. I am sure everyone knows that soil everywhere has different colours. In Belgium we have this grey-neutral tone whereas in the summer I was fortunate enough to travel to Namibia, Africa and collected some clay there. The pigments are just indescribable, it is bright yellow, orange, fiery. Something we are not quite used to here.
Right now my main material when painting, obviously to get my colour, are acrylics and I hope to eventually distance myself from using it and really trying to focus on a new way of creating pigments. That would be deriving clay from different places. Where the earth is full of different nutrients, it gives different colours. To ground the clay down into a powder-form and use that as paint. And then reflect it somehow in ceramic vessels that I make alongside it to show you that these are two different art mediums but they are actually made of the same material. They are from the same home space. That would be quite interesting to explore.
Who or what gets you out of your comfort zone?
It is hard to say what gets me out of my comfort zone so early on in my developing career. I would say almost something like this interview is out of my comfort zone. It is one thing to make your work but another thing to really get personal and talk about it, give reasons to everything that you do. 
There is a lot of pressure of young creators these days who already have such an established philosophy of what they are doing. It is important to shed light on the fact that you do not need to have a specific answer yet at this point. What I do, now, realistically will completely be different within 5 years time. I might be focussing on ceramics alone. 
What gets me out of my comfort zone is really just challenging what I am doing at the moment. I think I am the one who gets me out of my comfort zone, if that makes sense! If I keep on asking myself what I can do differently. I am used to using acrylics and paint. Getting out of my comfort zone is trying something new, using clay as paint. That is already something I am uneasy about, but I am excited to see where it goes.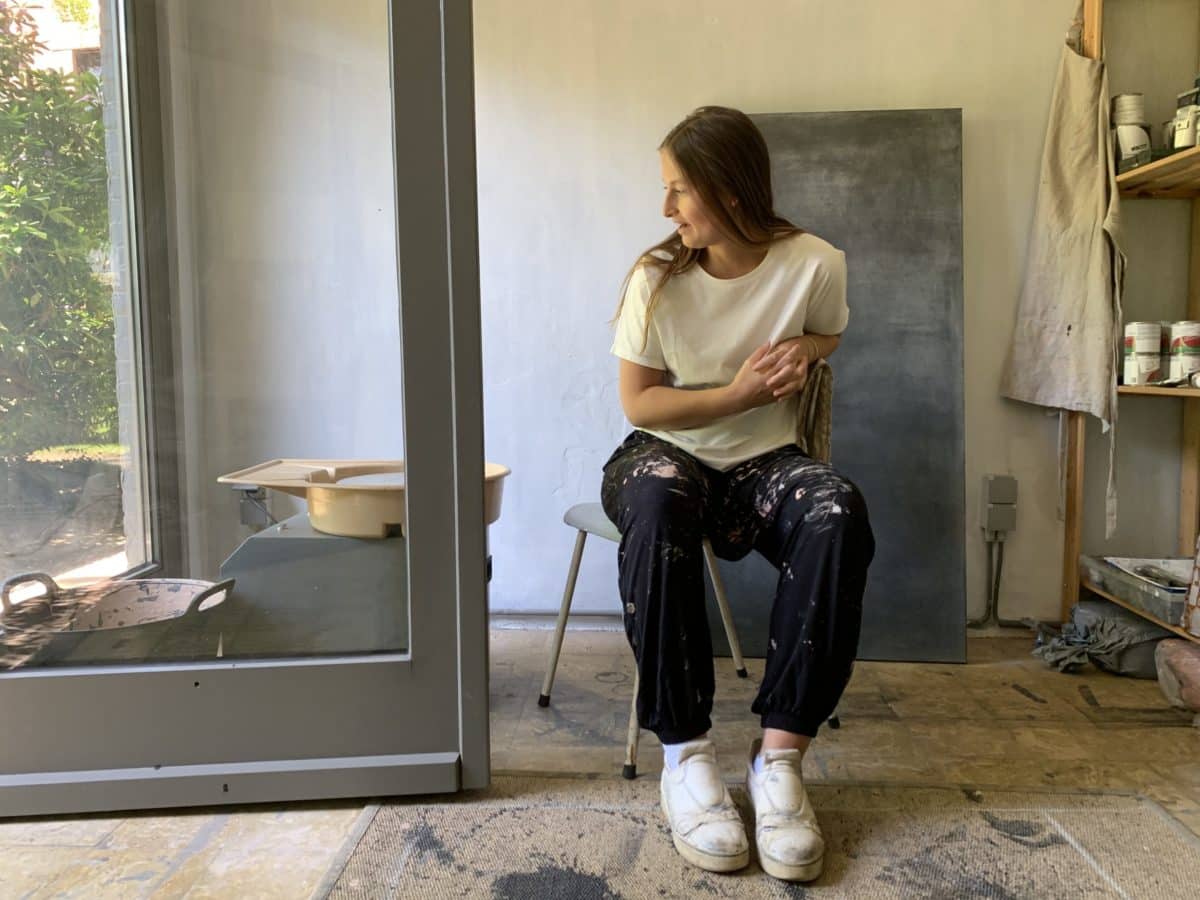 How does creativity come for you?
Creating really comes in the moment for me. It is not like I will have a dream the night before and say that is exactly what I am going to do. It happens to me when I have to material in my hand. It is really the process that drives the outcome. I gather the materials that I intend to use whether it is a twig from the garden to create scratches on the canvas or paintbrushes or spatulas. I have a colour scheme in mind, I grab my tools and as I make in the process, the outcome is completely the result of that. What is important, is to stick by my intuition and have no preconceived thoughts about the painting I want to make. That makes it even more interesting to the viewer. 
"There is a lot of pressure on people to always have such an underlying meaning on pieces where I would hope that people could learn to appreciate process rather than the outcome of the painting. Narrative is obviously a really important part. Perhaps the narrative is the process of making rather than the visual outcome." – Eleanor Herbosch
What's your focus?
Try to allow that what I do to become sustainable, like I use cloth now to remove ink from my paintings. I hope to substitute that with different materials. What I aim for the future is to be content with what I do and also nót to be content with what I do. You need to have challenges within yourself and say: I am actually not very happy with what I have done, that is what's going to make you wanting to go further. 
I don't really know where I see myself. I am really lucky to live a life between London and Antwerp. Here I have space to work, whereas in London space is of limit. Inspiration-wise completely, London is a city full of buzz. There are things to do on a Sunday which is quite rare here. If you are a local in Belgium you know what I am talking about. 
I see myself definitely continuing this exploration. I am interested in collaborating with more people. It is very important to learn from your peers. My friends in my course in London teach me something new every day. If it weren't for them I would probably not be where I am right now. In school we were collaborating with different courses, like Architecture and Product Design. 
The next step towards the future is bringing minds together. So talking to more people, be open about your practice, don't be afraid to listen to others and definitely allow myself to not like my work, take courage from it and continue to explore what I have initially always wanted to do.
"Untitled" by Eleanor Herbosch. Photography @tibods
Eleanor's recommendations:
The book 'The Beauty of Everyday Things' by Soetsu Yanagi. The daily lives of ordinary people are replete with objects, common things used in commonplace settings. These objects are our constant companions in life. As such, writes Soetsu Yanagi, they should be made with care and built to last, treated with respect and even affection. They should be natural and simple, sturdy and safe – the aesthetic result of wholeheartedly fulfilling utilitarian needs. They should, in short, be things of beauty.
The Nezu Museum by architect Kengo Kuma in Tokyo, displaying a collection of pre-modern crafts and textiles of Japan and East Asia.
About the artist:
Eleanor Herbosch, based in London and Antwerp
website
Other creators in their chambers: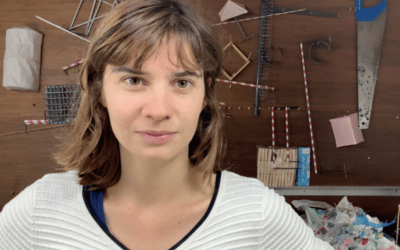 Dutch artist Lisanne Hoogerwerf builds landscapes in her anti-squatting studio in The Hague, capturing them with photography and video. She materializes her own imagination. Staying close to...