Online visibility: writer Adrian Hornsby
Online visibility is essential to attract the right clientele and increase your brand awareness. Your online visibility tells your audience a lot about your professionalism. So it's critical to give consistent attention to your online visibility and behavior. What can we learn from Adrian Hornsby's online visibility?
Can you briefly describe what you do?
I'm a writer and maker – a writer primarily, but writing is about more than words; it's about conceiving a journey that you want to take another person through. I use language but also visual and performance media (e.g. illustration, video, theatre sets and installations). Bringing those into the world is part of the creation too.
Online presence Adrian Hornsby
Relevant digital channels:
Website
Facebook
Instagram
I Piano, children's theatre, with pianist Dominic Harlan (premiere Edinburgh Fringe Festival, 2019). Adrian Hornsby in tree.
How effective is your website adrianhornsby.com? What goals does it achieve for you?
My website and social media presence aren't, for me, massive distribution channels. Most of my commissions come through organisations that bring their own platforms, and that's mostly how the work goes out: e.g. publishers for books, or theatres and festivals for shows.
My website is more for people who want to look me up for whatever reason, which may be commissioners or funders or just people who are interested.
The primary goal is to provide an online portfolio for professional purposes.
The secondary is to promote work to a wider public.
The other aspect of websites and social media that's valuable is communicating with other artists and collaborators. This can be for sharing ideas, letting other people know what I'm interested in, or if I have a specific question or need, the online creative community is great for sourcing. I.e. it's not just a megaphone, it's a forum.
Do you communicate your Why? If yes, how?
No, but I probably should. I promote the why of individual works, and firmly believe that if a work can't tell you why it exists, in 99% of cases, it doesn't deserve to. But the why of me overall – aik!
Do you sell your (art)work online? If so, through which channels (gallery's site, own website, art-site…)?
Books are available online via publishers and amazon; tickets for shows via websites of wherever they're showing. I don't handle a lot of sales directly or sell fine art via galleries or my website.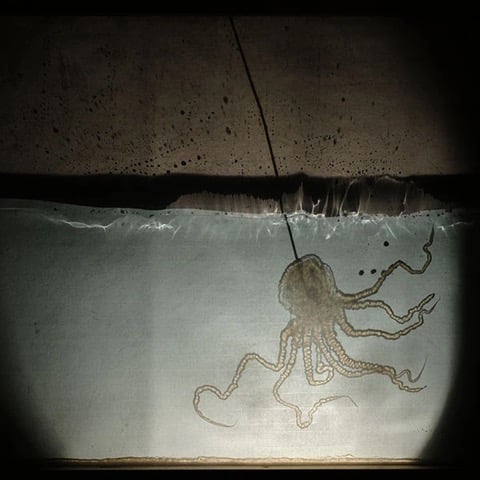 I Piano, children's theatre, with pianist Dominic Harlan (Edinburgh Fringe Festival, 2019)
"The most successful way for you to get into your client's sight? To be honest, it's word of mouth. The best things come through recommendations. What does this show? Networks are very powerful – even in the digital age, and possibly more so."
Thank you for sharing at least 3 recommendations.
Know good people – and not necessarily powerful people, but interesting people. They tend to know other interesting people, and if you can move fluidly through these networks, interesting things will keep surfacing for you.
Don't burn others – if you're an asshole, word will get around. And if you start working with assholes, you'll fall out and they'll say the asshole was you. This is a natural law.
When building an online presence, think about what users need over what you want to express. In artwork it's often the other way around, but something like a website has a utility. Don't be a mystery and expect people to pore over you – they won't.
Adrian Hornsby, online presence on Instagram
Online presence of
Adrian Hornsby, London
Neville Mars has several websites for his numerous international projects. He honestly admits these sites are poorly maintained and lack a uniform look and feel. What can we learn from Neville Mars about online presence?
read more